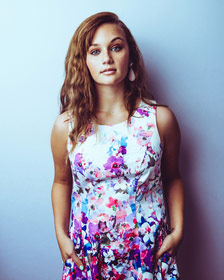 This 20-year-old Ohio native has had a whirlwind start since the release of her debut EP. She began her career with a rigorous 40-plus date nationwide tour, followed by a handful of shows overseas supporting her mentor, producer and Gotee Records' label head TobyMac. She spent last summer on her first-ever solo run on the West Coast while working and processing the direction for her debut LP. In the fall she was nominated for the GMA Dove Award New Artist of the Year category and had her award show performance debut.

"I've had to grow up a ton—quickly," Hollyn recollects. "One season, I'm a typical teenager living at home; the next, I'm moving to Nashville, managing my own business and spending weeks at a time on a tour bus; all the while trying to figure out if music is truly what God's called me into."
And it is that personal reflecting that has led Hollyn to a deeply personal and one-of-a-kind debut full-length album. With co-writers/producers Bryan Fowler, Dave Lubben, Wit & 42 North, Cole Walowac of Capital Kings and Toby McKeehan helping bring her thoughts to life, these ten songs culminate into an earnest snapshot of Hollyn being herself: a young woman working out life with God, relationships, artistry, and career. 
From the first track and lead radio single "Can't Live Without"—born out of that momentous trip to California, Hollyn wastes no time getting real.
"The album needed to start with most important thing to me: An honest confession of the loneliness I feel when I'm not in constant relationship with God or anyone else I care about," Hollyn says. "I often wonder if I'm even getting across to anyone; struggling to communicate what's going on in my heart. Conversations don't seem to go anywhere – hence the album title – and there's distance. Prayers seem to hit the ceiling. I can't survive long at all with that distance."
Hollyn will be on one of this year's top tours – the TobyMac Hits Deep Tour –

now 

through April 9 including top markets like Houston, Dallas, Nashville, New York City, Chicago and Philadelphia.