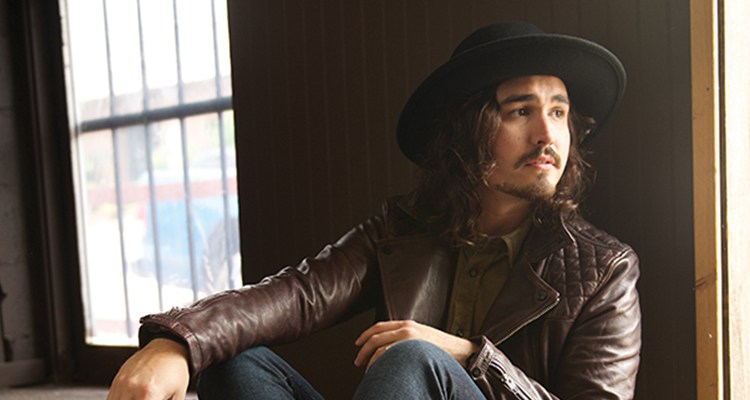 It's something we all want the answers for. It's something we fear. Something we want to have a grip on.
The future.
So we ask for clearcut forecasts, desperately seeking security in precise, defined direction. Tossing and turning, we think if we could just glimpse the end of the book, we'd rest easy. We make plans and maps, charting out our lives and where we want them to go. We find ourselves filled with anxieties, pressure, worries…
Jordan Feliz knows the feeling.
But he didn't write his newest album, Future, because he figured out all the answers to his path. Quite the opposite. This record was born out of Feliz making peace with the fact that he doesn't, none of us can, know what his future holds. Cling to your best-laid plans until your knuckles turn white, mark your calendar up and down, worry yourself dizzy…But the real answer is accepting that we do not hold the future in our own two hands. And thank goodness, because the One who does has already written better stories for us than we ever could.
The past:
Following widespread acclaim for his first album, The River, Jordan Feliz began the journey of recording a new one. But the process didn't start how he expected or hoped.
"I started going through anxiety and honestly didn't know how to begin, because I felt like 'Everything I create isn't going to be good enough.'" Jordan remembers.
He was on tour, trying to write for the album, but experiencing panic attacks. He found himself unable to connect with the songs he'd been working on.
"My head wasn't in the right spot. My heart wasn't either. it was more focused on appeasing people. It was listening to myself and not to God."
Then back home with friends and co-writers Paul Duncan and Colby Wedgeworth, he marched not around the fear, but through it. And on the other side was solid ground.
"I said 'What if I just can't do it?' but then Paul says to me 'Look man, there's no pressure. Everything in your future has already been plotted by Jesus. He has paved every step of the way for you, in a way to have favor on your life. Our future is not wound up in our success, but in the inheritance of God.'"
With those words, something clicked for Jordan. He took a breath. He let go. He remembered that his future is held by the strong, kind hands of the Father.
"Sometimes it's really hard to silence out the world and just listen to the small, still voice. But once I refocused and listened to Him, He had a message for me," Feliz shares. "A fire was set in me to write a song about freedom. A song we can sing to be stoked that every single day there's a God that loves us, never ceases, and never fails."
That day they wrote "Witness," which would go on to be Feliz's first single for Future, in only 45 minutes.
"And that's when the record started."
It's certainly not the first time Jordan's had to rely on faith. Six years ago, following much prayer, he and his wife ventured to Nashville after feeling called to make the move; the only catch: they didn't even have enough money to make it all the way from California to Music City. They were depending on a few performance gigs Jordan had along the route.
"But all the shows I was scheduled to play got cancelled. At first we were stressed and asking 'What do we do?'. We just felt like the Lord was saying 'You need to go.You just need to trust me.' We had to decide to think about what the Lord has for us, instead of what we have for ourselves. Watch and prepare for what He can do, not what we think we can do."
He ended up with a spontaneous opportunity to perform for less than 30 people, who bought more than enough merchandise to get the Felizes to Nashville.
"We sobbed in the car," he reflects. "For God to show us that He gives us more than we even need…"
Jordan tells that story in the album's track "All Along," his most personal song to date. With the first lyric describing his literal first moment of breath, Feliz goes on to tell some of his life's highlights, revealing God's presence through each moment of every season.
And that's what marks this album as a mature step forward for the singer-songwriter. The vibrant pop melodies are not only infectious, but deep-rooted in the vulnerable walks of faith he's ventured through in the past year.
"This record is just chock-full of story. Every single song," Jordan says. "It's kind of me taking a piece of my life, my heart, my beliefs, and my trust in God and just giving them to people. And hopefully they'll hold onto the message and learn to trust God even more through it."
He wrote most of the album on the road with a hectic tour schedule and only eight other writers. Feliz was surprised to find that he loved this unorthodox writing process, saying it allowed for him and cowriters to spend more time simply experiencing life together, then reflect on it through creating music. Gone was the pressure to sit in a room and crank out a hit song. The result: more authentic songs that come from inspiration found in everyday life. Songs the musicians poured themselves into— including one of Jordan's favorites, "Faith," which came about from a middle-of-the-night writing session.
"That never would've happened back home," Jordan laughs.
And as Feliz and his team were wrapping up, something incredible happened for an album that began from a place of insecurity. When it came time to make the final song decisions, typically a stressful and challenging process, Jordan felt an unexpected peace.
"Not even kidding, the day we left that meeting, we all just kind of knew those were the songs. With The River, we thought through every little thing, but this time it feels like the Lord just gave us these songs and was like 'This is it. You don't need anything other than these.' And we still wrote over 40 songs, but it was so clear that these were the ones that were going to be recorded. We hadn't even heard them produced yet, so we were just hoping it was all going to turn out right…and it did. These songs were gifted to me by the Lord."
The present:
Jordan Feliz belts out "Witness" to a roaring crowd
"Your love is moving mountains every day of my life. Can I get a witness?"
Hands shoot up, voices join in, souls worship. Jordan beams. It's the smile of a heart that knows it's landed in the hands of its Protector. The smile of a heart, fearlessly honest, that is connecting with others. A heart that's traveled through uncertainty, and probably will again, but will always find home in the story already written for it.
Jordan listens to the new record, the latest season of his life in musical form. Those early doubts have transformed into peace. The shame into compassion. The worry into joy, and the fear into excitement.
"Probably craziest of all is that I didn't see any of it coming together at beginning. I thought 'There's no way this is going to get done and I'm going to be able to handle it,' and it just happened. This entire project comes down to the fact that every day I'm learning how to trust God more and more and more."
He doesn't know how the next chapter reads. But he knows something more important: the Author.
"Every time I think about the concept of this record, it feels like it's purposeful for people to grab onto the idea of a song and hold onto it for a very long time. That's what it stands for. It stands for what's coming. It stands for what God has for our life."
The future:
Written. Held.