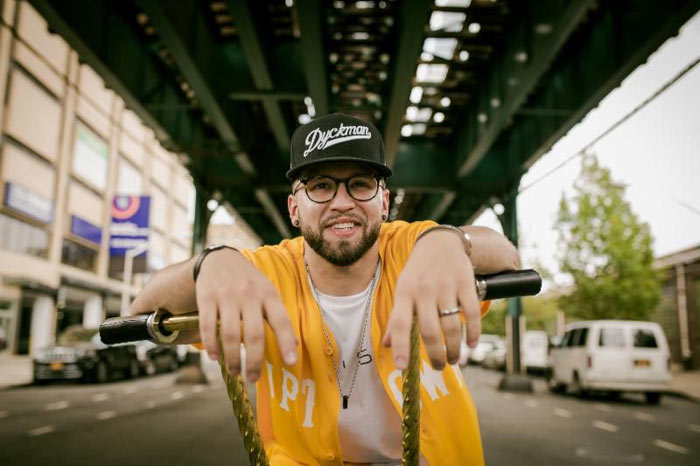 It's nothing but net for Reach Records hip hop recording artist Andy Mineo as he scores big with his colossal hit, "You Can't Stop Me." The song recently moved the equivalent of more than 500,000 copies, which includes over 51 million streams to date, and is officially certified GOLD by the Recording Industry Association of America® (RIAA). According to Spotify data, of the 500,000 units required to make gold, their curated playlist, Beast Mode, is responsible for 100,000 of those units alone. The power of playlisting in the digital era continues to change the game for indie artists.
"I told my mom I went gold and she didn't know what that meant and I was immediately humbled," said Andy. "It's Incredible we did this without any radio play. A small, dedicated team from Reach Records and Miner League gave this record all they had and the organic sharing of my fans started this wave. It shows that without my fans I wouldn't be able to do this music thing for a living. Shout out to the playlist programmers who gave the record a chance. I'm thankful for everyone who believed, felt encouraged, and shared the record. I dedicate this to 11-year-old Braydon who made 'You Can't Stop Me' his theme song for beating cancer, and everyone else who has used the song to push through tough times."
Mineo wrote the song with Alex Medina and Gabriel Azucena (GAWVI), and Medina and GAWVI produced the track for Mineo's Never Land EP. Since its release the song has garnered much attention, even winning ESPN's coveted Whammy Award for best walk-up song in baseball. In 2017, the NBA's Indiana Pacers announced they would be using the "You Can't Stop Me" single as their official 2017/2018 theme song. The music video, released on January 16, 2015, has garnered more than 9 million views across social channels.
The RIAA Gold certification news is fresh off of a momentous 2017 where Mineo released his collaboration with Wordsplayed, Magic & Bird, and set out on his capacity-crowd 31-city Friends and Family tour. He's already in the midst of a heavy tour schedule for the new year and joined forces with label mates on the new single "Light Work," released as a collective voice recognizing Reach Records' most unashamed 116 Day manifesto yet.
Ultimately, beyond the empathetic lyricism, colorful storytelling and emotion, Andy Mineo fans can always expect a relatable truth. His music stands apart as the only hip hop that weaves weighty topics, truth, humor, and inspiration from all genres of music into one cohesive and excellent work. It is in Andy's ability for self-reflection where his fans discover the honesty in his songs, such as on "You Can't Stop Me." Check out the official music video for "You Can't Stop Me" and the new remix featuring Messiah here:
"You Can't Stop Me" Official Video | https://youtu.be/WopyrETP-CU
"You Can't Stop Me" Remix Ft. Messiah | http://smarturl.it/ycsmremix
Stay up to date with Andy Mineo at AndyMineo.com or join the network of his more than 1 million fans via social media on Facebook, Twitter or Instagram.