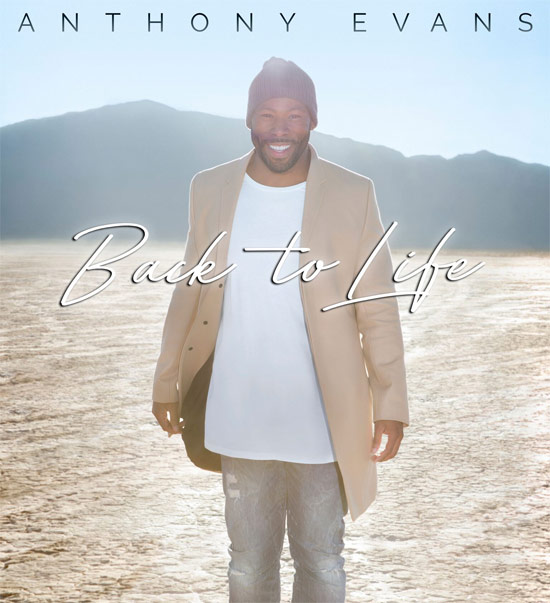 Recording Artist and Worship Leader Anthony Evans will release his highly anticipated 8th studio album Back To Life Friday, February 3rd. The collection of worship songs will be available through all digital retailers and exclusively at Lifeway Christian Stores. Back To Life includes 11 very personal songs by the NBC's The Voice alumnus' that rediscover the authenticity, vulnerability and honesty that shapes a relationship with God.
The album's first single, "See You Again," is this week's No. 1 most added song on the Gospel radio charts and is available through Sherman James Productions. Fans can watch the music video for the soaring track on Charisma.com, Beliefnet.com, and NewReleaseToday.com.
Evans shares, "The revelations that God gave me and continually gives bring me back to life. His truth has infiltrated my work and personal life alike and altered the way I handle myself. There's been life breathed back into my career because He was giving me truth and lessons in unexpected places. You don't think that you're gonna find a drive to do ministry better in Hollywood, but that's where I found it and that's the bottom line. Having the very best in Hollywood on your album wouldn't have happened if I wasn't pursuing that and there's been a huge reward for the risk that I took…This wasn't a factory that's just putting out more worship music. Everybody on the album is a friend. I'm all about relationships, digging deep, knowing each other well and putting out music that hopefully brings the listener back to life in the same way that I've been."
The project features all-star Grammy® Award and Stellar Award nominated producer Max Stark, esteemed vocal arranger Tim Davis (Barbra Streisand, Celine Dion, Sam Smith, Mariah Carey), alongside a slew of background singers with credits spanning Christina Aguilera, Patti LaBelle, Jennifer Hudson and Jonny Lang. It includes personally penned selections and co-writes with Krissy Nordoff, Michael Neale ("Your Great Name") Cindy Morgan, Martha Munizzi and Kirk Franklin. Sonically diverse, the album available through Sherman James Productions features other standout songs including the title-track "Back To Life," the spiritually-affirming battle cry "Believe" and the faith-anthem remake "Ever Be."
Anthony Evans will be hitting the road this spring on The FerVent Tour. The FerVent Tour, presented and produced by Jerry Shirer, Going Beyond Ministries and Evans' own company Sherman James Productions, is an evening of dynamic teaching from New York Times best-selling author, speaker and lead actress in the hit film War Room, Priscilla Shirer, and with worship by Evans.
Back To Life Track List:
1. See You Again
2. Believe
3. Incredible
4. Ever Be
5. With You
6. Back to Life
7. God of Breakthroughs
8. Home
9. Everything Changes
10. Your Way
Bonus Track: Because of Your Prayers (Grandma's Song)
The FerVent Tour:
February 1 | Mesa, AZ | Hillsong Phoenix
February 2 | San Diego, CA | Cornerstone Church – SOLD OUT
February 3 | Costa Mesa, CA | Calvary Chapel Costa Mesa – SOLD OUT
February 4 | Rocklin, CA | Destiny Church
March 23| Lynchburg, VA | Thomas Road Baptist Church
March 24 | Jacksonville, FL | North Jacksonville Baptist Church
March 25 | Palm Beach Gardens, FL| Christ Fellowship West Palm Beach
March 26 | Orlando, FL | Calvary Orlando
May 25 | Kansas City, MO | First Baptist Church Raytown
May 26 | Minneapolis, MN | TBA
May 27 | Chicago, IL | Calvary Church Naperville
May 28 | Columbus, OH | TBA
June 22 | New York, NY | TBA
June 23 | Pittsburgh, PA | TBA
June 24 | Grand Rapids, MI | Grand Rapids First Assembly of God
June 25 | Indianapolis, IN | Lakeview Church
For more information on The FerVent Tour, visit: www.TheFerventTour.com.
For more information on The FerVent Tour, visit: www.TheFerventTour.com.