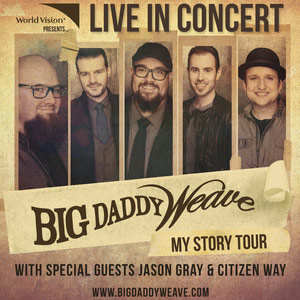 Big Daddy Weave, one of Christian music's biggest headlining artists, is hitting the road once again for their "My Story Tour," set to kick off September 17, 2015 in Quincy, Ill. Featuring Jason Gray and Citizen Way, the tour will run through November 22, 2015, hitting 27 cities across the U.S.
The tour is launching in conjunction with the September 18, 2015 release of Beautiful Offerings, Big Daddy Weave's highly-anticipated seventh studio album, available for pre-order now. The album's first single, "My Story," sparked the title for the tour and has resonated with listeners everywhere, breaking into the top 20 on both the Hot Christian Songs and Christian AC charts.
"We are really excited to play the songs from our new album Beautiful Offerings," lead singer Mike Weaver said. "We've only experienced them in the studio, but songs take on a different life when you play them live. I'm really eager to discover them in that way and see what God has in store each night of the tour. The songs from this album are about the journey we've been on since the last record, learning to live in being redeemed and having our lives be beautiful offerings to the Lord. We're excited about sharing that journey with everybody and sharing the stage with our good friends Jason Gray and Citizen Way."
Leading up to the tour, Big Daddy Weave will be part of the Christian Music Broadcaster's Momentum Night Of Worship, tonight, September 9, 2015, as well as Disney's Night Of Joy, Friday, September 11, 2015.
Beautiful Offerings follows the band's best-selling album to date, Love Come To Life, which brought four consecutive No. 1 singles, including "Overwhelmed," which recently earned a Dove Award nomination for Song of the Year. The 46th Annual Dove Awards will take place Tuesday, October 13, 2015 at Lipscomb University in Nashville, Tenn.
Big Daddy Weave's My Story Tour
Sep 17 – Quincy, IL (Oakley Lindsay Center)
Sep 18 – Marion, IL (Marion Cultural & Civic Center)
Sep 19 – Marion, IL (Marion Cultural & Civic Center)
Sep 20 – Moberly, MO (Big Moberly Area Community College)
Sep 25 – Nashville, TN (Gaylord Opryland Hotel)
Oct 01 – Lexington, NC (Lexington NC Civic Center)
Oct 02 – Fort Mill, SC (Riverplace Studio)
Oct 03 – Elon College, NC (Alamance High School)
Oct 04 – Greenville, SC (North Greenville University)
Oct 06 – Poplar Bluff, MO (Black River Coliseum)
Oct 07 – Shreveport, LA (Red River Revel Music Festival)
Oct 10 – Supply, NC (Brunswick Community College)
Oct 11 – Christiansburg, VA (Christiansburg High School)
Oct 22 – Toledo, OH (Emmanuel Baptist Church)
Oct 23 – Bardstown, KY (Nelson County High School)
Oct 24 – Morehead, KY (Button Auditorium @ Morehead State University)
Oct 25 – Lima, OH (Memorial Civic and Convention Center of Lima)
Oct 30 – Pensacola, FL (Pensacola Bayfront Stadium)
Oct 31 – Citronelle, AL (Citronelle High School Football Stadium)
Nov 01 – Sulphur Springs, TX (City of Sulphur Springs Downtown Celebration Plaza)
Nov 11 – Toms River, NJ (The Church of Grace and Peace)
Nov 12 – Bethel, CT (Walnut Hill Community Church)
Nov 13 – Somerset, MA (Grace Gospel Church)
Nov 14 – Waterville, ME (Centerpoint Church)
Nov 16 – Westfield, MA (Westfield Evangelical Free Church)
Nov 17 – Manchester, NH (Manchester Christian Church)
Nov 18 – Montgomery, NY (Goodwill Church)
Nov 20 – Northfield, IL (Christian Heritage Academy)
Nov 22 – Greeneville, TN (Niswonger Performing Arts Center)
About Big Daddy Weave
Big Daddy Weave is one of the top artists in Christian music: they are one of the genre's biggest headlining artists, the second most played artist at Christian AC-Monitored radio in 2014 and the recipient of multiple industry awards and nominations, including: Dove Awards, K-LOVE Fan Awards, Billboard Music Awards and ASCAP Awards. With a brand-new studio album, entitledBeautiful Offerings, coming September 18, 2015, the band's latest and career best-selling album, Love Come To Life, celebrated four consecutive No. 1 singles along with recent news that "Redeemed" has been certified gold by the RIAA. Big Daddy Weave has career album sales of more than one million units. Formed in 2002, Big Daddy Weave is: Mike Weaver, Jay Weaver, Jeremy Redmon, Joe Shirk and Brian Beihl. More information can be found online at www.bigdaddyweave.com.
Get Connected With Big Daddy Weave
Website: www.bigdaddyweave.com/
Facebook: www.facebook.com/bigdaddyweave
Twitter: www.twitter.com/bdwmusic
Instagram: www.instagram.com/bdwmusic