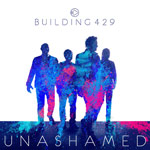 When Building 429 released UNASHAMED, their latest project last fall, it was touted as the band's most powerful and anthemic album to date. The band is now excited to share their newly launched I AM UNASHAMEDwebpage. This is a place where you can read stories and view photos of how others are living their lives unashamed, and where you can also share your own story. The new webpage is a way to be part of a community, be inspired and encouraged daily, and so much more.
Building 429's frontman Jason Roy says, "The Scripture says, 'For I am unashamed of the Gospel of Jesus Christ, for it is in the power of God for salvation for anyone who believes.' We talk as Christians a lot about how we've been changed, how we've been set free by the love of Jesus Christ. But set free from what? We're not fooling anyone if we act like we've got it all together. For us to stand and say that we're unashamed also means at the very same time for us to be authentic. We have to share that at one time we were broken, and that the love of Jesus Christ has moved us from ashamed to unashamed."
To find out more and how you can sign up and participate, check out: Building429.com/unashamed.