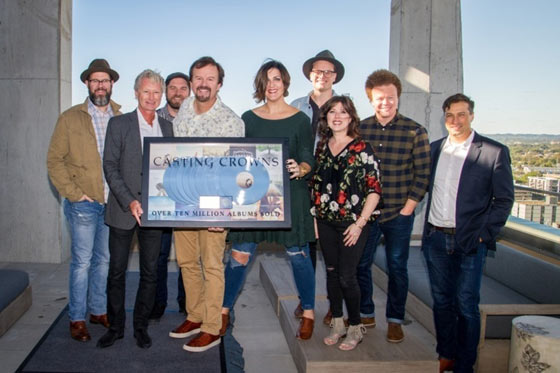 Grammy-winning and multi-Platinum selling band CASTING CROWNS celebrated their 10 million albums sold achievement last week with industry friends and family in downtown Nashville. The group joins a small and elite group of Christian artists as they surpass 10 million albums sold. 
Here are quoteables from the afternoon celebration on a hotel rooftop in downtown Nashville:
"It is amazing to see how God has used a group of ordinary youth and worship pastors who wanted to write songs for our church. Now, 14 years later we still write songs for our church but are blessed how God has taken these songs across the world. I always say that a song can change someone's day, but only God can change someone's life. That is what I hope we are able to do – help change someone's day but also be the body that God can use to help change someone's life. We just want to keep writing and singing songs as long as God gives them to us."
– Mark Hall, Casting Crowns frontman
"It is a rare honor to be in a position to congratulate an artist on the milestone of selling 10 million albums in their career. The fact that Casting Crowns has done so, and in a relatively short period of time, clearly speaks to the power of the songs and the message this band has communicated over the last 14 years. It's a testimony to the impact of their hard work and dedication to ministry. We are so grateful to walk alongside Casting Crowns and be part of sharing their music with the world."
–Terry Hemmings, President/CEO Provident Music Group
"The music and message of Casting Crowns has challenged, encouraged and inspired us all. Achieving 10 million albums sold is remarkable and overwhelming, yet even more humbling is to know that millions of hearts have been touched, changed and brought closer to God through the ministry of these songs.  Casting Crowns spirit, commitment to service, and incredible generosity is a catalyst to our team and all the teams around them. We feel proud to be a part of this profound and prolific band and are grateful to see them honored by their peers."
– Mike Jay, Proper Management

"Working with Casting Crowns from the beginning has been a true honor and joy. I'm not sure anyone could have imagined the amazing journey God was preparing for this band. Selling 10 million units is a rare milestone for any artist, but what makes this so special is how humble and focused on mission the band really is. And that mission continues. I'm very grateful to be associated with such incredible people."
– Jason McArthur, Vice President A&R, Provident Label Group
In addition to their career celebration last week, Casting Crowns was awarded their 18th GMA Dove Award for "Contemporary Christian Artist of the Year." The band also performed their song "Loving My Jesus" during the live taping of the 48th Annual GMA Dove Awards that aired on Sunday night on TBN.
ABOUT CASTING CROWNS: Prolific CCM band Casting Crowns has achieved sales milestones with more than 10 million album sells including one RIAA 2x multi-Platinum album, five RIAA Platinum albums, two RIAA Platinum DVDs, seven RIAA Gold albums, four Gold DVDs, one RIAA Platinum certified single and five RIAA Gold certified digital singles. The band currently holds the position as Billboard's top-selling act in Christian music since 2007. ??Casting Crowns has also been honored with four American Music Awards (out of seven total nominations), a GRAMMY Award for its 2005 album Lifesong, and six GRAMMY nominations. In addition, the group has garnered 18 GMA Dove Awards and two Billboard Music Awards from 11 total Billboard Music Award nominations.
Casting Crowns' seven band members all remain active in student ministry in the Atlanta area and tour according to their local church commitments. Serving his 25 plus years in youth ministry, lead singer/songwriter Mark Hall maintains his role as the student pastor at Eagle's Landing First Baptist Church in Atlanta.