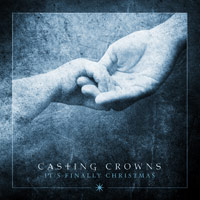 Grammy-award winning and Multi-Platinum selling band 

Casting Crowns

 has released new Christmas music this holiday season. The six-song EP It's Finally Christmas is available now: click here for the digital album, here for the physical album, or here for streaming. With five original songs and one traditional track, Casting Crowns will usher listeners into the Christmas spirit that will take you on a journey of your faith through the filter of holiday music.

Today the band debuted the lyric video for the single, "Gloria / Angles We Have Heard on High," click here to watch. The new album is produced by Casting Crowns' longtime producer Mark A. Miller and features a new song, "Make Room," with labelmate Matt Maher, who also co-wrote the song with Mark Hall. In addition two songs ("It's Finally Christmas" and "Somewhere In Your Silent Night") were co-written with artist Matthew West.
This season, Casting Crowns has also teamed up with Cracker Barrel stores to release their new EP combined with their RIAA Platinum certified Christmas project Peace On Earth for an exclusive release available in stores now. Casting Crowns also joins the list of powerhouse artists on The Star: Original Motion Picture Soundtrackfor the upcoming animated holiday film. Their new recording "His Eye On the Sparrow" is available on the soundtrack now, and the film The Star opens nationwide on November 17. Fans can also catch Casting Crowns on tour with For King & Country.  See the tour dates listed below. 
Track Listing for It's Finally Christmas:

1. Gloria / Angels We Have Heard on High
2. It's Finally Christmas
3. What Child Is This (Christ The King)
4. Somewhere in Your Silent Night
5. Oh Holy Night
6. Make Room (feat. Matt Maher)

A Glorious Christmas Tour Featuring Casting Crowns and For King & Country

Nov. 30         Austin, TX
Dec. 1          Corpus Christi, TX
Dec. 2          Houston, TX
Dec. 3          Dallas, TX
Dec. 5          Nashville, TN
Dec. 7          Bossier City, LA
Dec. 8          St. Louis, MO
Dec. 9          Minneapolis, MN
Dec. 10        Sioux Falls, SD
Dec. 14        Greensboro, NC
Dec. 15        Pittsburgh, PA
Dec. 16        Louisville, KY
Dec. 17        Atlanta, GA  

Click on the tour poster for details and tickets.


Track Listing for It's Finally Christmas Cracker Barrel Edition:
1. It's Finally Christmas
2. Gloria/Angels We Have Heard on High
3. What Child is This (Christ The King)
4. Somewhere In Your Silent Night
5. O Holy Night
6. Make Room (feat. Matt Maher)
7. O Come All Ye Faithful
8. Joy to the World
9. Away in a Manger
10. Silent Night