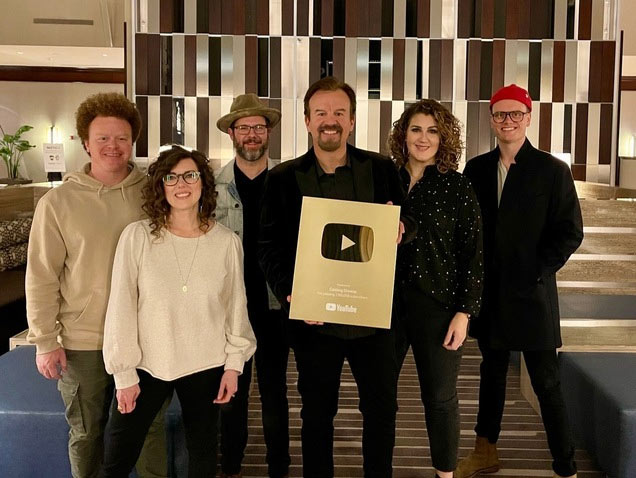 Casting Crowns

 has been recognized with the rare honor of surpassing more than one million subscribers with the YouTube Gold Button Award. This achievement has only been reached by a handful of CCM artists so far. Since 2018 when the band released the album Only Jesus, they have gained more than 500,000 new subscribers, released 77 videos and have more than 250 million total views.
Along with being recognized for their online content subscribers, Casting Crowns has received their newest RIAA Gold Certifications for their No. 1 singles "Only Jesus" and "Nobody." These songs are from the album Only Jesus, which produced two No. 1 radio singles, including the group's 15th career No. 1 radio single, a GRAMMY nomination, a 2019 Dove Award, two 2020 Dove Award nominations and most recently two Billboard Music Awards' nominations for "Top Christian Album" and "Top Christian Song" ("Nobody" ft. Matthew West). The impact of this album nearly two years later include more than 290 million streams life to date. The videos for the newly certified songs have a combined 75 million views. The band has received 12 RIAA Gold Certifications over their career with five of those achieving Platinum status.
"It is a rare honor to congratulate an artist on these special milestones of sales achievements and YouTube subscribers in the Contemporary Christian Music genre," shares Terry Hemmings, CEO and President, Provident Entertainment. "The fact that Casting Crowns has surpassed this YouTube one million subscribers mark as well as received two additional RIAA Gold plaques in a relatively short period of time clearly speaks to the power of the songs and the message this band has communicated over the last decade, and particularly with their 2018 release Only Jesus. We are so grateful to walk alongside Casting Crowns and support sharing their music with a world that needs their message, especially in this difficult season."
Last night the band had their debut performance at the historic Ryman Auditorium in Nashville. Casting Crowns will also be playing at the Ryman tonight for a special Christmas show, and fans can purchase a ticket to live stream the concert 
here
.