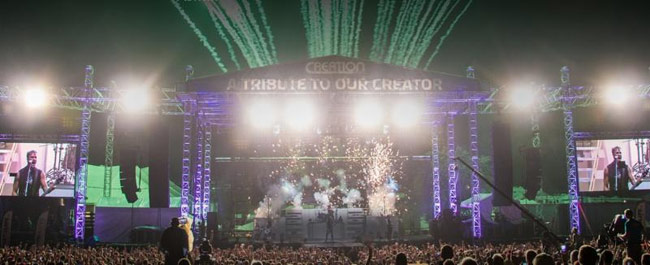 Creation Festivals partners Pastor Harry Thomas (Co-Founder and Executive Producer) and Troy Duhon (Executive Producer) are thrilled to announce an exciting new component of Creation Festival Northeast: live streaming! For the first time ever, the evening programming will be live streamed/simulcast.
Creation Festivals is joining forces with Blue Scout Media and University of Valley Forge to produce the live streaming programming. Blue Scout Media, which has produced such major live streamed events as Disney's Night of Joy and WinterJam, among others, is a Waco, Texas-based communications services company with a wealth of experience producing and distributing live coverage of everything from large multi-stage, multi-day festivals to intimate coffee shop shows. The Creation Fest programming will be streamed via Blue Scout Media's Stagehop.com platform (stagehop.com/creationfest).
"We believe the addition of live streaming will allow Creation Fest to go worldwide, In doing so, we expect to expand our mission from reaching tens of thousands to potentially hundreds of thousands of people with the Gospel during the course of the week," explains Duhon.
Creation Festivals currently produces four of the largest outdoor Christian Music Festivals in the country, including Creation Festival Northeast (Pennsylvania), Sonshine Festival (Minnesota/Wisconsin), Creation Ichthus Festival (Kentucky), and Creation Festival Northwest (Washington). This year, they will work with Pure Flix's God's Not Dead II: He's Surely Alive (pureflix.com), MyHealthyChurch.com and The Human Right (thehumanright.org) with Heath Adamson to add expanded awareness of both the physical festivals and the live streaming events.
"My Healthy Church is thrilled to be the live stream partner because of our passion to equip and enable the local church to effectively present the Gospel in their world. We have partnered with Heath Adamson, author of The Bush Always Burns, to help end the greatest injustice in our world: that a person could live and die without the opportunity to know Jesus. This worldwide movement, called The Human Right, unites Christians to rise from apathy to action; entitlement to responsibility; and silence to advocacy. Heath Adamson, throughout the festival, will be calling individuals to encounter Jesus and inviting them to join The Human Right movement."
"Over the years Creation has seen tens of thousands of lives changed by Jesus Christ at these festivals, and we see them continuing as powerful outreaches to bring the active and living Gospel of Christ to people of all generations," says Thomas. "We have dedicated ourselves to use music, the spoken word, film, the arts and now advanced live streaming technology to spread the Gospel.
"Premier destinations, combined with our continued commitment to excellence that offer great ministry and outreach, enhanced experiences, added value, and better convenience, guarantee your time at a Creation Festival will be the highlight of your summer, and maybe your life!" continues Thomas.
For more information, visit creationfest.com. To view the Live Simulcast, go to stagehop.com/creationfest.
About Creation Festivals:
Creation Festivals is the oldest and one of the largest operators of Christian music festivals in the United States. We exist to present the Gospel through music, teaching and any other creative means so that those attending will be drawn to salvation and discipleship in Christ. We come together by the thousands to "Give Tribute to Our Creator" and to allow His Spirit to birth many as "new Creations" in Jesus Christ who will love and serve Him.
Dates for 2015:
Creation Festival Northeast: June 24-27 (Mt. Union, Pennsylvania)
Creation Ichthus Festival: July 8-11 (Lexington, Kentucky)
Sonshine Festival: July 16-18 (Twin Cities Region / Somerset, Wisconsin)
Creation Festival Northwest: July 30-Aug 1 (Kennewick, Washington)
For more information visit creationfest.com, sonshinefestival.com and ichthusfestival.com.