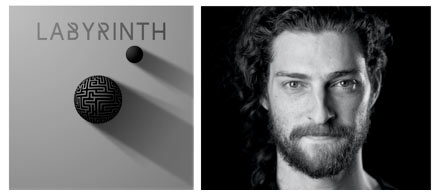 Integrity Music and multimedia group WILDFIRE7 announce the March 24 release of Labyrinth, a contemplative, scripture-based debut from artist and composer David Baloche, son of award winning worship leader/songwriter Paul Baloche, the album's executive producer.
Labyrinth is the first volume in a series that offers unique musical meditations using various translations from the Holy Bible, with this first project focusing on scriptures that address anxiety and stress. Tracks include "He Hears My Voice" (Psalm 55:16-17 NLT), "Nothing Can Separate" (Romans 8:38 NLT) and "Those Who Hope" (Isaiah 40:31 NIV). A new way to experience scripture,Labyrinth is an ideal soundscape for use during times of personal and corporate prayer and meditation with scripture sung by David Baloche who also plays piano, acoustic guitar, clarinet and trumpet on the album.
"The Labyrinth project isn't an escape; it's an encounter… with one's self and with God," says David Baloche, a New York City based artist and high school teacher. "It is a sonic labyrinth, a song experience to prepare for scripture and worship, as if to say, 'pay attention, we're headed for something deeper'."
Unpacking the project's title, he adds: "Labyrinths were placed outside medieval cathedrals to provide passage from the outer world to the inner sanctum, from the profane to the sacred. They were also placed on the flyleaves of ancient manuscripts to symbolize entry into scripture, to be the gateway into the biblical text. The labyrinth is the symbolic manifestation of God's command to Moses, 'Remove the sandals from your feet, for the place on which you are standing is holy ground'."
"The promises of God help transform our thinking and calm our souls," explains executive producer and Dove Award winning songwriter Paul Baloche. "In an anxious and busy world, Labyrinth is a powerful way to experience God's Word while filling our hearts and minds with His peace through verbatim scripture set to ambient music… allowing us to soak in God's Word."
Reinforcing the scripture connection, the team collaborated with YouVersion, the creator of the Bible App that has more than 260 million downloads, to offer a Labyrinth Bible plan to its worldwide community beginning March 29.
"We are excited to work with David and Paul Baloche on the Labyrinth project," says Bobby Gruenewald, founder of the YouVersion Bible App. "Our mission is to help people fully engage with the Bible, and offering a video-based Bible plan with scripture set to song is a dynamic way to help our community plant God's Word in their hearts."
Labyrinth will be available through all major digital service providers beginning Friday, March 24. The complete tracklist for the album, including scriptural references, is:
He Hears My Voice (Psalm 55:16-17 NLT)
Nothing Can Separate (Romans 8:38 NLT)
Come To Me (Matthew 11:28 NIV, ISV, ESV, GWT, BLB & Proverbs 3:24 NIV)
Green Pastures (Psalm 23:2-4 NIV)
Those Who Hope (Isaiah 40:31 NIV)
Lead Me To The Rock (Psalm 61:1-2 NIV, 2, 4 NLT)
Groanings Too Deep For Words (Romans 8:26 ESV)
As A Father Carries His Son (Deuteronomy 1:31 NIV)
The Peace Of God (Philippians 4:7 ESV, Proverbs 3:5 NIV, Proverbs 3:6 ESV, NLT)
My Help Comes From The Lord (Isaiah 41:10, Psalm 121:1-2 NIV)