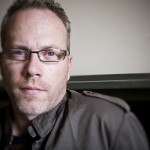 Darrell Evans, famous for songs like, "Trading My Sorrows", "Let The River Flow", "Fields Of Grace" and "Your Love Is Extravegent" is releasing his newest album, Fearless, September 25th on Dream Worship. His sound is a guitar driven singer songwriter Americana folk rock mixed powered Christ filled inspirational lyrics. With a 19 year history in Christian music and a Dove Award Nomination, Darrell continues to bring is God given talent of worship to the masses.
For more information about Darrell Evans go to www.DreamLabelGroup.com
ABOUT DREAM Worship:
DREAM was founded in 2008 to provide artists with a genuine approach to how real artist development should be done. By allowing for a partnership as a business model, Dream's artists empower themselves to develop and carry out a real vision for their lives as they affect other people's lives with their music and message. Incorporating social media, press, radio and touring it's allowing it's artists grow together as a family.
ABOUT Darrell Evans:
Darrell Evans is a passionate follower of Jesus Christ first, a devoted husband, and loving father. Darrell has five beautiful young children. Daughter Leah, and three sons Connor, Zachary and Grayson, and daughter Mackenzie. "They are my heart and world. My kids have changed my life for the better. I want to be the Godly father and leader that they need." Darrell and his wife, Charity, would also love to adopt.
Best known as the writer of songs like "Trading my Sorrows", "Let the River Flow", "Your Love is Extravagant", "Fields of grace", and "Freedom", he is considered by many to be a pioneer in the modern worship music movement.
Darrell's ministry started as a teenager in Olympia, WA: leading many of his fellow classmates to Jesus through personal testimony and nights of praise and worship in his parent's home. He has served as a worship pastor for churches in Washington, California, Oklahoma and Texas.
For the past 16 years Darrell has traveled the world alone and with the band ministering the gospel through worship, preaching, and prayer. His authenticity, genuine spirit and passion have connected with many as he ministers worship to the Lord. Darrell has seen numerous people come to know Christ and has encouraged many others to a deeper walk with God. People are healed, refreshed and renewed through Darrell's ministry.