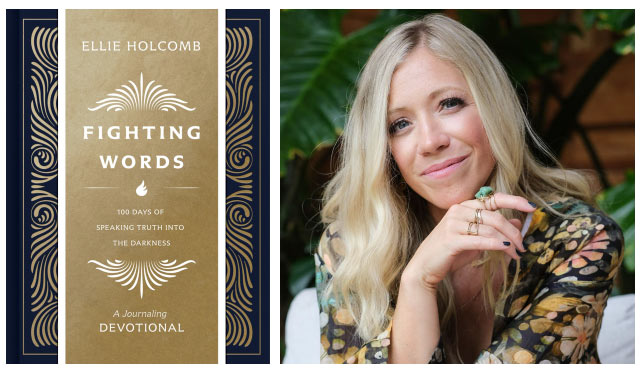 Today singer-songwriter and author 
Ellie Holcomb
 celebrates the release of her first devotional book: 
Fighting Words – 100 Days of Speaking Truth into the Darkness
 (B&H Publishing). Named after one of her hit songs, "Fighting Words," Holcomb's devotional book is filled with encouraging, honest reflections and questions to help you process scripture. 
Fighting Words
 is a place where you can wrestle, respond to, and take hold of precious truths in God's Word to help you push back the lies that so often consume, distract, and destroy us. 
Click here
 to purchase 
Fighting Words
.
Nearly a decade ago, Holcomb began memorizing Scripture with a friend of hers that was battling depression. They started committing God's Word to memory and called these verses their "Fighting Words." She has continued to do this with her music that is scripture-based and on her socials, she has shared regularly #FightingWords of encouragement for her community.
"I wrote this book for any woman who feels like she needs an anchor, a shelter, a light, or a song full of truth to sing into the shadows in her own life or the world around her," shares Ellie Holcomb about her book. "I wrote this for any woman who feels like she might be all alone in the midst of doubts or uncertainty, for any woman who feels weary and in need of some hope. I wrote it for women who are thirsty, scared, hurting, or looking for a guiding light."
This devotional marks her first book for adults as she has previously released two best-selling children's books through B&H Publishing Group (Don't Forget to Remember, 2020 and Who Sang the First Song, 2018). With these books, she spent several months on the Evangelical Christian Publishers Association (ECPA) juvenile bestseller list and was a finalist for Christian Book of the Year in the children's category (for Who Sang the First Song). She also released accompanying EPs with each picture book and was nominated for both for the GMA Dove Award for Children's Project of the Year, which she won in 2020 for Sing: Remembering Songs.