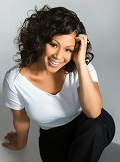 Multiple Grammy Award winner, TV star Erica Campbell sang the National Anthem earlier this week at the Washington Wizards game against the Los Angeles Lakers.
Campbell, a native Californian, will also be on hand to root on Laker great Kobe Bryant, who is scheduled to play his last game at the Verizon Center tonight. Bryant announced his retirement earlier this week.
Campbell continues to travel and tour in support of her current project, HELP 2.0. She has a full slate of shows throughout December including appearances at The Potter's House in Dallas; Evangel Cathedral with Mary Mary in the DMV; a special TV taping at Fellowship Church in Chicago with Pastor Charles Jenkins and many more. The 5x Grammy winner heads into the New Year with plans for new music and exciting new projects.
For show details, ticket information and more connect with Erica on social media:
Facebook: facebook.com/ImEricaCampbell
Instagram: @ImEricaCampbell
Twitter: @ImEricaCampbell