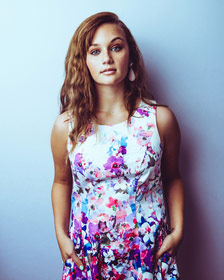 Gotee Records announces Hollyn, the newest addition to their roster family and her self-titled debut EP, which releases tomorrow, October 16 at all digital outlets including iTunes here. Physical copies can be purchased online at www.gotee.com/store or at shows. The 6-song EP features her debut single "Alone (feat. TRU)" that has been playing on the Air1 radio network for the past two weeks. The song was written by Hollyn, Toby McKeehan, producer Bryan Fowler and TRU.
"Every few years it's my honor to discover a new artist to walk alongside helping them write songs and begin their journey into artistry. I love this music, and I love sharing this talent with people coming to my shows," explains multi-platinum selling recording artist and Gotee CEO TobyMac. "Hollyn is the 'right on time' breath of fresh air that our industry needs. She's one of the best singers that I've ever recorded and is becoming a great songwriter in her own right. And the beautiful thing is, this is only the beginning."
Hailing from Ohio, raised in the church and on the Southern Gospel music greats, this American Idol alum has been working the past two years on her national debut. Hollyn has a style all her own and her new single is a perfect showcase of her talent.
Listeners were introduced to this vibrant young lady on TobyMac's newest release with the songs "Lights Shine Bright" and "Backseat Driver," which she is also a co-writer. As a songwriter, Hollyn co-wrote five of the six tracks on her debut EP. It also features two tracks "Hey Mama" and "Nothin' On You," which were produced by the GRAMMY-winning production team of COBRA (Dirty Rice and Joseph Prielzony), who produced two tracks on the award winning album, Anomaly, from Lecrae. It also features a cover of Lecrae's Dove Award winning song, "All I Need Is You."
She is currently on TobyMac's "This Is Not A Test" Tour with Britt Nicole and Colton Dixon. She will join the 2016 Air1/KLOVE TobyMac "Hits Deep Tour" beginning in February. For a complete list of tour dates go to: http://www.iamhollyn.com. In addition to her new EP and busy touring schedule, Hollyn recently collaborated with YouTube sensation Mike Tompkins (1.6 million subscribers with more than 263 million views) on a cover of Ellie Goulding's latest single "On My Mind."
Even as a fresh, new artist, Hollyn already has a strong sense of confidence on the calling on her life and music.
"It's a privilege for me to go up on stage and sing," Hollyn says. "God has given me this gift [so] that I can share my faith. The thing that makes me the happiest-is meeting people after the shows. I love that time! Right now my life has never been so out of control, but it's a beautiful thing. The Lord is taking me somewhere. I don't know where He's taking me, but I'm excited about it."
HOLLYN IS MANAGED BY TRUE ARTIST MANAGEMENT; BOOKING BY CAA