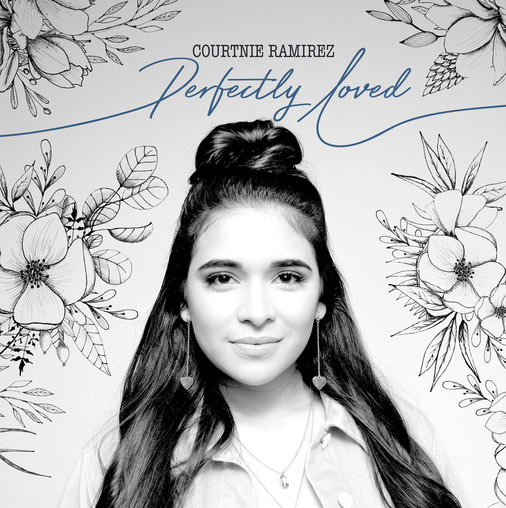 Gotee Records announces the newest family member to its roster with the signing of 
Courtnie Ramirez
. This enthusiastic singer with an effervescent disposition reflects the vibrancy of her Mexican and Guatemalan heritage that America fell in love with on Season 11 of NBC's "The Voice." Ramirez is excited and ready to share her original music – something she has dreamed about since she was a teenager. Her label debut song, "Perfectly Loved," is available today 
here
.
"I love that this is my first song, because this is exactly what I imagined coming out of the gate," Courtnie Ramirez shares. "How the Lord loves us and how He made us was perfect. Even though sometimes we don't see that in our eyes, He sees that; and I hope this song will be a prayer for other people. If the Lord wants to use my songs to heal hurts, let His will be done. That is my complete heart for all my music—that I'm writing the words that people can't say, and I'm giving them an anthem to get through life and to just keep going."
In addition to an English version, "Perfectly Loved" will be released in Spanish and Spanglish, honoring the singer's lineage—a tradition Ramirez intends to continue as she unveils new music. She co-wrote this exuberant pop track with label-mate and GRAMMY nominated songwriter Ryan Stevenson and Jordan Sapp, and partnering with Gotee Records is a perfect fit to share her music on a larger stage.
"I'm so excited about Courtnie being on Gotee," shares Joey Elwood, President of Gotee Records. "I think she's gonna speak to a lot of kids that haven't felt spoken to by Christian music, and that, in and of itself, is important. I'm not talking about culture, I'm not talking about gender, and I'm not just talking about age, I'm talking about kids that are looking for a voice that feels familiar and approachable, deep and soulful in all the right ways, and fun and brash in ways that speak to authenticity. Courtnie is a not a cool breeze, but a hurricane, and I'm hoping she can drawn in a whole new generation of kids we didn't know were out there."
When she's not in Nashville writing for her Gotee Records debut, Ramirez can be found at her new home in South Carolina with her husband, Edgar, whom she married in November 2018. Whether she's in the kitchen trying new recipes or sharing the platform with her husband, who leads worship at Elevation Church, Riverwalk, her greatest desire is to steward her talents with confidence and grace.