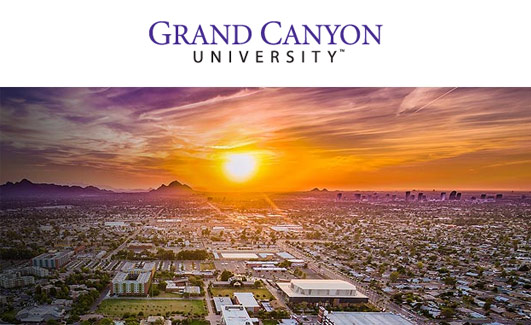 Grammy-nominated artist Bart Millard and Grand Canyon University unveiled a new state-of-the-art recording studio on the GCU campus that will serve as a vital tool in helping emerging Christian music talent hone their skills as artists.
GCU and Millard, who is program director of the university's Center for Worship Arts, will offer students a chance to evolve their skills by writing, performing and producing potentially chart-topping musical tracks. Last year, three freshmen teamed up with Millard to produce the Center's first EP, Canyon Worship. The original song "Christ in Me" on the EP climbed as high as No. 37 on the iTunes Christian singles charts. With the introduction of the recording studio, the university's label, also named Canyon Worship, will continue to produce and release tracks.
"This recording studio gives our students a chance that very few schools provide: the opportunity to combine their faith and musical talents," said GCU President Brian Mueller. "The Worship Arts program teaches them everything from songwriting and performing to production and lighting with a hands-on director in Bart Millard who is very engaged in the process. Unlike many programs that focus just on the music, Worship Arts is grounded in our College of Theology while also bringing in curriculum from the Colangelo College of Business and the College of Fine Arts and Production."
The recording studio includes a 1,466-square-foot space with four isolation booths that can accompany bands of any size, and a smaller 254-square-foot studio built to accommodate vocal overdubs, voiceovers, solo instruments and post-production editing. The 1,172-square-foot, high-tech central control room seats two at the console, and also allows up to 20 additional guests inside the control room during session playback and mix-down.
"It's one of the bigger studios I've seen in my career," said Millard, who as the longtime lead singer for the popular Christian band MercyMe has spent thousands of hours in such venues. "There are bigger ones, but they're rare. Most of them are cubbyholes, and most people are doing their songs in rooms that are about the size of broom closets."
In addition to a large collaboration area, where up to 50 aspiring musicians can work together to write lyrics or music, the studio includes three fully equipped band rehearsal spaces, which can accommodate up to eight musicians and their gear. Each space has an electronic drum kit, a personal monitoring system and recording computer for demos or keeping a record of musical ideas as they evolve during sessions. Additionally, the studio will be used to record voiceovers, undertake sound design for theater, conduct closed production work and develop music videos. There are also three offices for studio staff and a small conference room for up to 12 people.
"I'm really excited about the songs that are going to be created out of this studio," Millard said. "I've always said great songwriters write about what consumes their heart, and we'll have a room full of students in this program who are grounded in Scripture and consumed with Jesus Christ."
Since its introduction last year, the Worship Arts program has experienced significant enrollment growth. Capabilities of the center, such as the recording studio and the affiliation with Millard, have increased enrollment by 170 percent over the past year, with 154 students enrolled. The bachelors program offers four emphases – digital media, worship production, worship management and worship ministry.
"This program will produce songs that show up on Christian music charts, but it's not just about creating national recording artists," Mueller said. "It's about earning a degree that is grounded in theology and helps prepare the next generation of worship leaders who will spread the Gospel in local churches and throughout the world."