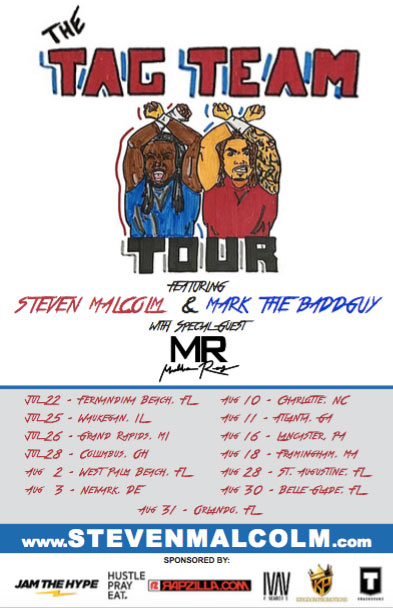 Coming off the success of The Second City album release, the critically acclaimed hip-hop artist Steven Malcolm will embark on his headlining summertime tour entitled the Tag Team Tour.
The tour will kick off in Fernandina Beach, FL on July 22 and visit 12 other cities across the US, drawing to a close in Orlando, FL on August 31.
"Summertime is about to be LIT," says Malcolm when asked about the tour. "I'm so excited for these shows. I love to perform and hang out with fans. We gonna rage, worship, turn up, dance, celebrate and have fun!"
Joining Malcolm on this multi-artist tour will be pop/hip-hop artist Maddie Rey who previously featured Malcolm on her release of 'Don't Sleep on Me."  Additional special guests and friends will be joining in select cities.
Malcolm will be performing songs from The Second City (4 AGAINST 5) including his hits "Fuego", "Not To Us/ Good Love" and his current single "Even Louder". "Even Louder feat. Natalie Grant"  is contining to perform well at radio, currently landing at #13 on Mediabase HotAC , Top 30 Mediabase Airplay AC chart and Top 40 Billboard Airplay AC chart.  The worship track is currently playing on national radio networks Air1, WayFM, and other local radio affiliates.
For more information on Steven Malcolm and the Tag Team Tour, please visit www.stevenmalcolm.com.
Tag Team Tour Dates:
*With Maddie Rey
JULY 2019
22 – Journey Church- Fernandina Beach, FL
25 – Church of Joy – Waukegan, IL*
26 – Edge Urban Church, Grand Rapids, MI*
28 – New Birth Christian Ministries, Columbus, OH*
AUGUST 2019
2 – Tabernacle International – West Palm Beach, FL
3 – Faith City Church – Newark, DE
10 – Fort Mill Church of God – Charlotte, NC*
11 – City Takers Church – Atlanta, GA*
16 – One City Church – Lancaster, PA*
18 – New Life Church- Framingham, MA*
28 – National Guard Armory – St. Augustine, FL*
30 – Dolly Hand Cultural Arts Center – Belle Glade, FL*
31 –Focal Point Church – Orlando, FL*