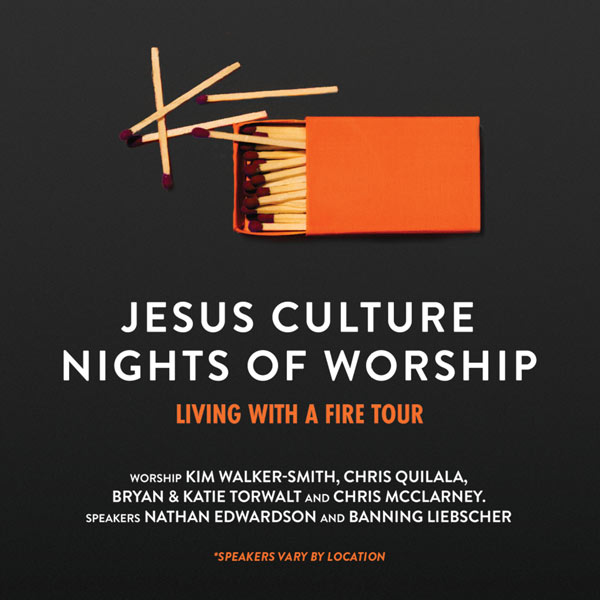 Jesus Culture

 has announced the "Living With A Fire" Tour, the namesake of the worship collective's anticipated album. Hitting the road this October, the tour will hit nearly 20 markets across the country including Seattle, Chicago, San Antonio, Boston and more. Promoted and produced by Premier Productions, the tour features Jesus Culture members Kim Walker-Smith, Chris Quilala, Bryan & Katie Torwalt and Chris McClarney, as well as Jesus Culture founder Banning Liebscher and Pastor Nathan Edwardson. Tickets are available nationwide on Jul. 16. For all the dates and details go to www.jesusculture.com/nightsofworship or www.premierproductions.com. 
"Our hearts are burning to see America experience another great outpouring of the Holy Spirit. Raising up revivalists has been our mandate for the past 20 years, and it still remains the same today," said Jesus Culture founder, Banning Liebscher. "We are truly believing that these nights of worship and prayer will be strategic in seeing revival break out in our nation."
October
*all dates subject to change, artists and speakers may vary by date
5 – Portland, OR
6 – Seattle, WA
7 – Spokane, WA
9 – Casper, WY
11 – Fargo, ND
12 – Minneapolis, MN
13 – Chicago, IL
15 – Akron, OH
16 – Grand Rapids, MI
17 – Lexington, KY
18 – Fort Wayne, IN
21 – San Antonio, TX
23 – Memphis, TN
24 – Knoxville, TN
26 – Baltimore, MD
27 – Philadelphia, PA
28 – Boston, MA
About Jesus Culture:
Jesus Culture is passionate to see campuses, cities and nations transformed by the power and love of Jesus. Their mandate is to raise, equip, and mobilize those who are coming to fulfill the call of God on their lives. Through the ministry of conferences, events, worship, campus ministries, curriculums, resources and now a local church, Jesus Culture is continuing to grow in bringing young people into encounters with Jesus and equipping them to minister His heart to a broken world.
In addition to collaborative music such as Love Has a Name, members of the group have released solo offerings, such as Chris McClarney's Breakthrough, Kim Walker-Smith's On My Side Live, Chris Quilala's Split the Sky, and Bryan & Katie Torwalt's latest release, Champion.