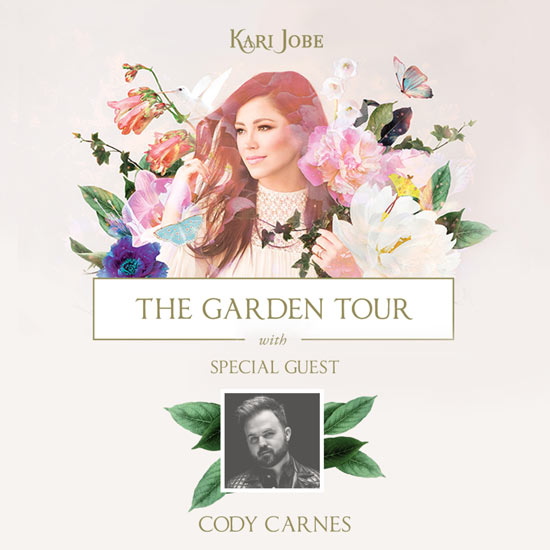 The largest producer of live Christian events, Premier Productions, is partnering with worship leader Kari Jobe for The Garden Tour, with special guest Cody Carnes. The namesake of her most recent album, tickets for The Garden Tour will be available for presale for a limited time starting July 14th through July 16th using the presale code LOVE. The official on sale date is July 17th.  
"This Fall tour is extra special for me because my husband Cody Carnes will be opening the evening playing new songs from his album that will be released very soon," states Jobe. "There are lots of exciting things in store for this tour!"
A continuation of the heart behind her album, The Garden Tour will provide an opportunity for worship and exploration of hope amongst tragedy through the image of a garden.
"The Garden Spring Tour was so incredible. We have heard numerous stories of God doing miracles in people's emotions and hearts. It's been such a sweet journey writing, recording and now leading these songs live on tour!" expresses Jobe. "I can't wait to be in more cities this Fall to continue to see all that God wants to do in people's lives that come!"
Exclusively produced by Premier Productions, the world's leading Christian events company, tickets for The Garden Tour are available for presale here, starting July 14th through July 16th using the presale code LOVE.
The Garden Tour
*All dates subject to change
10/06 – Winston-Salem, NC | Winston-Salem First
10/07 – Greenville, SC | McAlister Auditorium
10/08 – Knoxville, TN | Tennessee Theatre
10/12 – New Orleans, LA | Church of the King
10/13 – Dallas, TX | Gateway Church
10/14 – Houston, TX | Grace Church
10/15 – Austin, TX | Great Hills Baptist Church
10/19 – Virginia Beach, VA | Wave Church
10/20 – Pittsburgh, PA | Victory Family Church
10/21 – Reading, PA | GT Church
10/22 – New Haven, CT | College Street Music Hall
10/24 – New York, NY | PlayStation Theater
10/26 – Milwaukee, WI | Riverside Theatre
10/27 – St. Louis, MO | Grace Church
10/29 – Fort Wayne, IN | Embassy Theatre
11/03 – Wichita, KS | Central Community Church
11/04 – Springfield, MO | Juanita K. Hammons Hall for the Performing Arts
11/05 – Oklahoma City, OK | The Criterion
11/09 – Detroit, MI | NorthRidge Church
11/10 – Cincinnati, OH | Taft Theatre
11/11 – Lexington, KY | Quest Community Church