Although Church Clothes 4 was previously announced as the final installment in the Church Clothes series, Lecrae isn't slowing down and will be steadily releasing more new music this year! The six new songs on the Church Clothes 4 Deluxe: Dry Clean Only bonus mixtape include 6 brand-new records featuring Rotimi, D. Smoke, J. Paul, and Torey D'Shaun. This new music is in addition to the original CC4 Mixtape, which featured Andy Mineo, WHATUPRG, nobigdyl, Jon Keith, and A.I. The Anomaly, and Jordan L'Oreal.
STREAM CHURCH CLOTHES 4: DRY CLEAN ONLY HERE!
On "They Ain't Know," Lecrae faces the opposition head on questioning their intentions stating, "If I'm shining, God must be behind me!" On "Can You Hear Me Now?," Lecrae and D. Smoke trade bars about tests of their faith and their connection with God rhyming, "No matter how hard the test, gotta stay connected." Lecrae links up with East St. Louis native, Torey D'Shaun on "Price Up," a favorite line on the song may soon be, "Price Went Up As Soon As Christ Went Up." On the Afrobeats single, "Best Things," Lecrae and Rotimi celebrate their partners in love calling them "the best things to ever happen [to them]."
"Legacy" ft J Paul The Carpenter finds Lecrae as a new place where he's thinking about Legacy, what he's left behind, and the impact he's made both personally and professionally. As Lecrae celebrates Reach Records' 20th Anniversary, he finds himself at a new place in his career and life. "I'm at a place now where I'm building the framework for the future of CHH and hopefully expanding faith in hip-hop globally. Dry Clean Only speaks to my desire to handle the culture with quality care," he shares! "Since I began the Church Clothes series I've wanted to use it as a place to truly link hip-hop and the faith to influence the culture. With version, I'm leaving more for whoever comes up next. I want to make it clear that with dedication to the craft, culture, and a connection with the Creator, disruption is possible," shared Lecrae!
One of the disrupters featured on CC4's "Double R Dreamin" is rapper, singer, songwriter and record producer, URSTRULYXYZ, known more for his songwriting credits for some of the biggest names in music, including but not limited to, Chris Brown, Young Thug, Chinx, Nipsey Hustle, Rick Ross, French Montana, Nas, NLE Choppa, Polo G, Kendra Jae, Migos, 2Chainz, Chrisette Michele, Tyga, etc.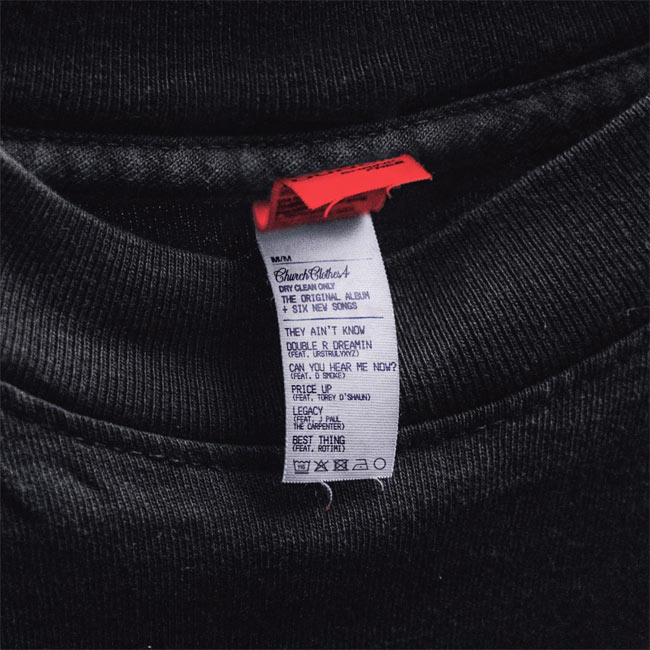 Check out the full track list for Church Clothes 4: Dry Clean Only below and stream the bonus mixtape at this link.
1. Spread The Opps
2. Dirt
3. Still In America
4. Misconceptions 4 (feat. nobigdyl., Jon Keith, A.I. The Anomaly)
5. Good Lord (feat. Andy Mineo)
6. I-45 Freestyle
7. Take Me Up (feat. WHATUPRG)
8. Protect My Peace (feat. Jordan L'Oreal)
9. Fear Not
10. We Did It (feat. PJ Morton)
11. Journey
12. Deconstruction
13. They Ain't Know
14. Double R Dreamin (feat. URSTRULYXYZ)
15. Can You Hear Me Now? (feat. D Smoke)
16. Price Up (feat. Torey D'Shaun)
17. Legacy (feat. J Paul The Carpenter)
18. Best Thing (feat. Rotimi)
Watch the video released from CC4 below: "Spread The Opps," "Still In America" and "Good Lord" featuring Andy Mineo.
Lecrae's "The Final Church Clothes Tour," kicks off on March 17th in Orlando, FL, and then travels to 26 cities across The South, Midwest, and East Coast ending May 14th in Massachusetts. For tickets, tour dates, and cities, please visit Lecrae.com/tour.