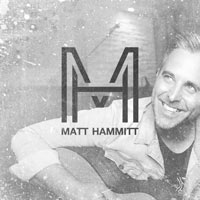 GRAMMY® nominee Matt Hammitt's awaited, self-titled solo project is available today marking the first album release for the new FCM Records, label under Full Circle Music, helmed by GRAMMY® winner Seth Mosley. The 10-track record tackles blind trust, faith and the difficulties of stepping out of a familiar and comfortable place to follow Jesus, who often calls us to do difficult things for our ultimate good.
"These songs have been written over the past two years, through the hardest and most meaningful transition of my life," explains Hammitt. "The opening track 'Heaven Knows' was written within the context of making the very difficult decision to step away from Sanctus Real. As each song unfolds a piece of my story, I believe that every listener will hear pieces of their own story in the struggle and the joy of this journey."
In preparation for the LP, Hammitt released two tracks to radio throughout the year, including the impactful "Tears." His current single, "He Always Wins" is a worship anthem that is quickly being sung in churches around the globe. The emotions behind the former frontman's decision to leave Sanctus Real are penned into the opening track "Heaven Knows." Also found on the album is a newly recorded version of the band's smash hit "Lead Me" and "To The Finish," co-written with Hammitt's wife Sarah who also sang background vocals on the track.
Leading up to the release, Hammitt has hosted episodic conversations on Facebook entitled "Made For More," a theme covered in the song "Could've Been" that included special guests Tim Timmons, Bryan Fowler, his wife Sarah, Mosley and more. To view, click here.
"It's always mind blowing to think I get to work with some of the very people that impacted me growing up. Matt Hammitt is one of those people," shares Mosley, President of Full Circle Music. "His band Sanctus Real was one of my favorites and now that I get to partner with him as the label, on his breakout solo-record, it is truly a Full Circle moment. I am so proud of Matt's songwriting, work-ethic and his creativity on this project. This marks a big milestone for Full Circle Music, in being our first full record release through our label. I can't think of a better artist to launch with."
On the heels of reimagining his career as an artist, speaker, songwriter and author, in order to prioritize his family, he will embark on the "Christmas In The Round" tour next month with Building 429 and Cloverton. Hammitt will continue to speak and lead music for the popular "Lead Me Live" events next year, as well as being a featured speaker at Family Life events.  He is currently finishing a new book that is scheduled to release later in 2018.  Hammitt will also join Kirk Cameron for 30 dates in 2018 in a newly created family and marriage conference. He also wrote and recorded the title song from the upcoming feature film Like Arrows coming to theaters, May 2018. Go to www.likearrowsmovie.com for more information.
Matt Hammitt is available here.