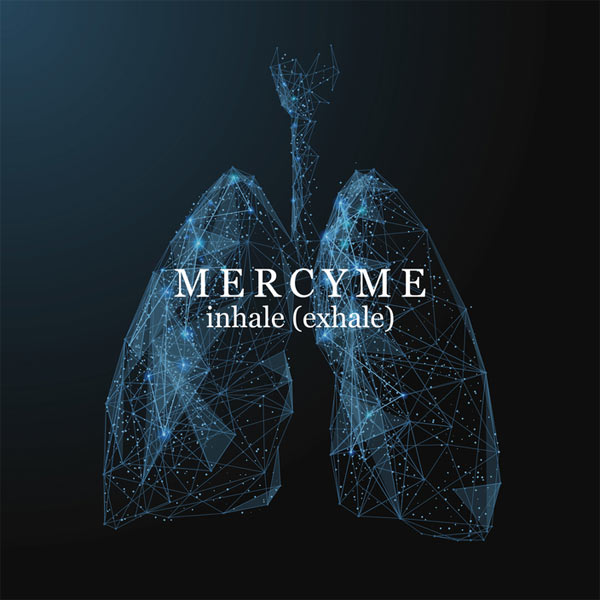 GRAMMY® nominated, multiple American Music Award, 
Billboard
 Music Award and Dove Award-winning band 
MercyMe
 has released their long-awaited tenth studio record, 
inhale (exhale)
 today. Tomorrow morning, members of the band will be on 
FOX & Friends
 to talk about the new project before a pre-taped performance of their new single, "Say I Won't" is aired.
Last night, SiriusXM – The Message (Ch. 63) exclusively premiered the album on their inhale (exhale) Album Reveal Special, which will be rebroadcast multiple times throughout this weekend. The special was the first place fans were able to hear the album from top to bottom – hearing the story behind each song as told by the band. Afterwards, the band joined SiriusXM listeners in a virtual After-Party in The Message Blue Room event and were joined by special guests featured on the album, Gary LeVox (Rascal Flatts) and Gloria Gaynor.
During the album reveal special, the band was surprised by Melissa Chalos, senior curator of Christian/Gospel with music streaming site Pandora, with a plaque presentation welcoming them into the Pandora Billionaires Club, commemorating over a billion streams of MercyMe songs across platform.
Tonight, The inhale (exhale) Sessions livestream event with MercyMe will begin at 8pm ET, with tickets available at https://www.momenthouse.com/mercyme
The one of a kind event will allow fans to go behind the scenes as the band performs the songs and celebrates the release of inhale (exhale), all while reflecting on the journey that brought it to life – all from their studio in Nashville. The event will be available on demand for 48 hours past its initial airing.
Leading up to the album release, MercyMe has made several media appearances, including FOX Nation's special concert episode of Ainsley's Bible Study, and an incredibly inspirational segment on Good Morning Amercia's GMA3 with their friend and inspiration behind "Say I Won't," Gary Miracle.
With an extensive Billboard feature, CBN News' Studio 5, and many other press hits this week and coming soon, MercyMe will appear on TBN's HUCKABEE on May 15/16, and is excited to return to the Grand Ole Opry for a live Circle TV/Livestream performance on July 10, tickets for which are currently on sale at Opry.com.
A favorite at radio for over two decades, it's no surprise that "Say I Won't" is already topping the national radio charts – 
#4 Billboard National Christian Audience
, 
#4 Mediabase Christian Audience
, 
#4 Billboard AC Indicator, #5 Billboard AC Monitored
, and 
#5 Mediabase Christian AC
 – thanks to support of nearly every Christian station in the country playing the song, including KLOVE, Way FM, KSBJ/Houston, KLTY/Dallas, KFSH/Los Angeles, WFSH/Atlanta, WPOZ/Orlando, KTIS/Minneapolis, KLJY/St. Louis, and WFFH/Nashville.In support of the single, MercyMe has spoken with 100+ radio stations over the past six weeks – including special appearances on 
The Morning Cruise
(The Joy FM)
, 
The Wally Show (WayFM)
, 
Chris Fabry Live! (Moody Radio)
, and an upcoming appearance on the 
KLOVE Morning Show
 with Skip and Amy.
In process for over two years, the 16-song collection (produced by Tedd T., Brown Bannister and Jordan Mohilowski) is the latest chapter in MercyMe's creative adventure, and includes "Almost Home," a stunningly poignant anthem that topped the charts for a combined total of 17 weeks. There's also the buoyant "A Little Love" featuring lead vocalist Bart Millard's close friend Gary LeVox, of the award-winning country super group Rascal Flatts, disco legend and friend Gloria Gaynor on "Brand New," and "On Our Way," features Millard's son Sam Wesley.
About MercyMe:
It continues to be a landmark time for the multi-platinum selling, GRAMMY® nominated, multiple American Music Award, 
Billboard
 Music Award and Dove Award winners MercyMe. They were recently named 
Billboard's 
Top Christian Artist of the 2010 decade, and in 2020 received their eighth American Music Award nomination. A major motion picture based on the life of frontman Bart Millard who wrote the mega-hit song "I Can Only Imagine" after the loss of his father, opened at a remarkable No. 3 at the box office on Mar. 16, 2018 (Lionsgate, Roadside Attractions). In conjunction with the movie release, Millard penned a memoir and the band released a collection of hits titled 
I Can Only Imagine – The Very Best Of MercyMe
. In 2018 MercyMe was named Top Christian Artist at the 
Billboard
Music Awards, was the top winner at the fan-fueled K-LOVE Fan Awards including a win for Artist of the Year, and was the GMA Dove Award Winner for Artist Of The Year. Since their debut in 2001, the band has sold more than 9 million units in CD, single and DVD sales, garnered more than 48 No. 1 multi-format radio singles, and had four consecutive mainstream radio hits. MercyMe made history in 2014 as "I Can Only Imagine" surpassed 2 million digital downloads, making it the first song in Christian music to go platinum and double-platinum in the digital domain. The song has now gone has gone 4x platinum. In 2009, 
Billboard
 named MercyMe's "Word Of God Speak" the No. 1 Song of The Decade and the group the No. 1 Artist of the Decade in both the Christian Songs and Christian AC Songs categories, recognizing them as one of the industry's most notable talents. They have sold out venues throughout the US and Canada, including Radio City Music Hall, Red Rocks Amphitheatre, and have appeared on the Macy's Thanksgiving Day Parade, Good Morning America, GMA3, The Today Show, CBS This Morning, FOX New Channel's FOX & Friends, CNN, ABC News and in the pages of 
Entertainment Weekly,
The New York Times, USA Today 
and more. Their tenth album, 
inhale(exhale), 
is available now.
Get Connected With MercyMe:
www.mercyme.org
www.facebook.com/mercyme
www.twitter.com/mercyme
www.instagram.com/themercyme
www.youtube.com/user/mercymevideo