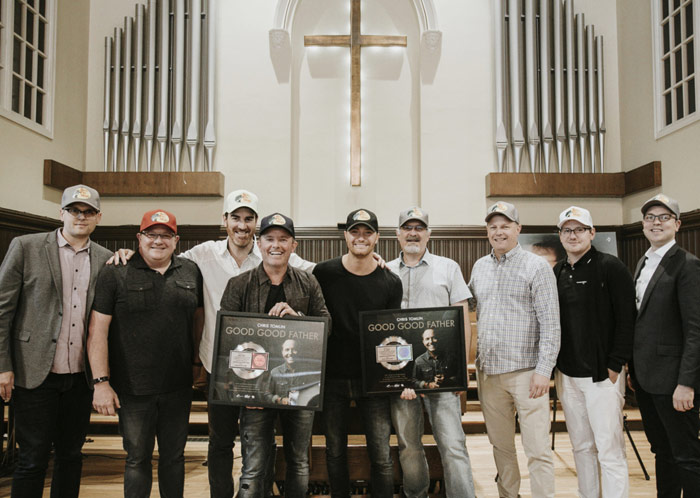 It was announced earlier this week that singer/songwriter and worship leader 
Pat Barrett
 will release his solo full-length, self-titled debut on July 20.  During an album presentation held yesterday for the upcoming project, GRAMMY® Award winner Chris Tomlin surprised Barrett with a plaque announcing the RIAA Platinum certification for the chart-topping single "Good Good Father." The song, which was co-written by Barrett, has been performed by numerous artists yet it was Tomlin's recording that took the song to No. 1 at radio.
Pat Barrett is the flagship artist on Tomlin's imprint record label, Bowyer & Bow, in partnership with Capitol CMG. His upcoming album is the follow-up to his self-titled EP that released in April. The debut single, "The Way (New Horizon)," continues to climb at radio and is Top 20 of the National Christian Audience chart.
Barrett will head out on Tomlin's "Good Good Father" Tour in Canada this fall, which follows his spring run performing on the "Worship Night in America" Tour.
Pat Barrett 
LP track listing:
1. Into Faith I Go
2. God Is So Good (You Are Worthy)
3. The Way (New Horizon)
4. Everything Is Sacred
5. Better
6. My Hallelujah
7, Be Still My Soul
8. Build My Life
9. Hymn Of The Holy Spirit
10. Sparrows And Lilies
11. Sing To The Lord (Banner)
12. Sails (feat. Steffany Gretzinger & Amanda Cook)
ABOUT PAT BARRETT
: Best known as one of the primary singer/songwriter for the band Housefires, Pat Barrett is a worship leader at Grace Midtown in Atlanta, GA. With songs such as "Build My Life" and "Good Good Father," Barrett is a key songwriter and artist in the broader worship community. He is the first signing on Chris Tomlin's new label imprint, Bowyer & Bow, in partnership with Capitol CMG. Barrett also partnered with Tomlin to write the children's book 
Good Good Father
, which to date has sold more than 200,000 copies. For more information, please visit 
PatBarrettMusic.com