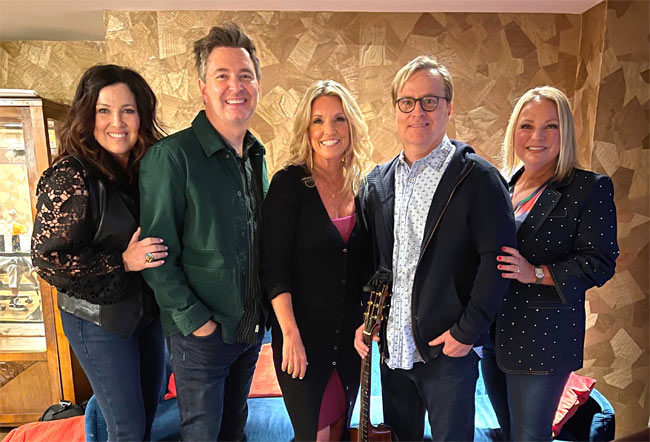 Turn Your Eyes (Songs We Love, Songs You Know) Volume II, the new project from Point of Grace, has become the Platinum-selling, GRAMMY®-nominated trio's latest hit recording, debuting in the Top 10 on Billboard's Top Christian/Gospel Albums chart and landing at #3 on iTunes' Top Christian Albums chart following its April 28 release. In addition, multiple selections from the Fervent Records (Curb | Word Entertainment) set have been added to a range of noteworthy playlists, including Spotify's New Music Friday Christian ("At The Table") and Pandora's New Christian Music Now ("Turn Your Eyes"), among others.
In celebration of the bestselling collection, Point of Grace recently headlined a special album release concert in Nashville. The evening also featured appearances from Dove Award-winning singer/songwriter Wes King and Dove Award-winning worship leader and recording artist Travis Cottrell and was among the highlights of Point of Grace's sold-out Circle of Friends Weekend.
Held twice a year, the exclusive weekend brings together fans from around the country for three days of intimate performances, VIP appearances, and unique outings curated by Point of Grace. Special guests at the recent Circle of Friends Weekend included GRAMMY®-nominated, Dove Award-winning singer/songwriter Cindy Morgan, who presented a reading from her debut novel, The Year of Jubilee, and acclaimed singer/songwriter Skye Peterson, who shared several original songs for attendees at Nashville's North Wind Manor.
Last week, Point of Grace was featured on the historic Grand Ole Opry, where they shared selections from Turn Your Eyes. The trio also stopped by WSM Radio/Circle Television's "Coffee, Country & Cody" morning show and Moody Radio Network's "Dawn & Steve In The Morning" to chat about the new album, among other key appearances.
Produced by Cindy Morgan, Turn Your Eyes (Songs We Love, Songs You Know) Volume II pays homage to the rich history of Christian music through the decades. Genre luminaries themselves for 30 years, Point of Grace delivers signature new arrangements of seven beloved classics and two originals, including a cover of Wes King's 1993 hit "I Believe"; the newly penned "At The Table"; treasured hymn "It Is Well"; and a stirring rendition of Rich Mullins' iconic anthem "Awesome God," among other selections.
ABOUT POINT OF GRACE
Point of Grace's soaring melodies and rich harmonies have helped define the sound of contemporary Christian music for three decades. With total sales in excess of 8 million units, the group has garnered two Platinum records; three GRAMMY® nominations; 27 #1 singles and numerous Dove Awards. Inducted into the Oklahoma Music Hall of Fame in 2018, Point of Grace's discography includes 10 bestselling studio recordings, four Christmas albums and such Christian radio standards as "How You Live (Turn Up The Music)," "Keep the Candle Burning," "Circle of Friends" and "Jesus Will Still Be There." Comprised of Shelley Breen, Denise Jones and Leigh Cappillino, Point of Grace founded the groundbreaking Girls of Grace conference; they appear regularly on the historic Grand Ole Opry stage; and they have authored multiple books, including 2020's How You Live: Lessons Learned from Point of Grace. 
For further information, visit pointofgrace.net or turningpointpr.com. Follow Point of Grace on Facebook and Instagram.