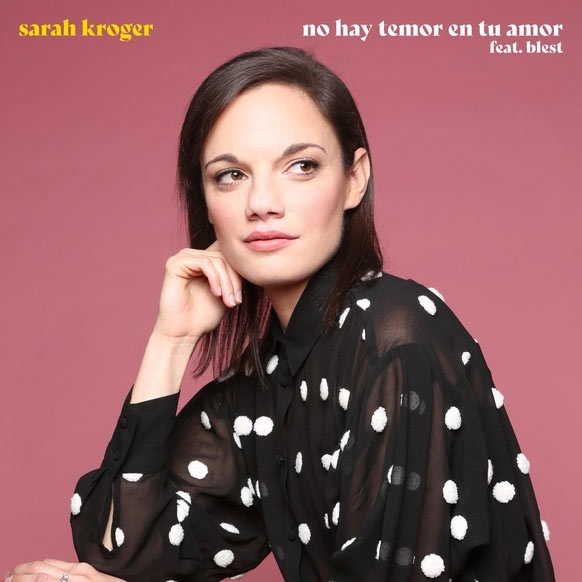 Today Integrity Music announces the new single from 

Sarah Kroger

 titled "No Hay Temor En Tu Amor (feat. Blest)." Translated as "No Fear In Love," the English version is found on her latest album release, 2020's Light.
A Nashville-based songwriter and worship leader, this is Kroger's first Spanish single to release. With a deep love and connection to the Spanish language and culture through her mother's side of the family, it's always been part of her life and she hopes "No Hay Temor En Tu Amor" is the first of many more to come.
"My grandmother was born in Peru and Spanish was her first language," Kroger explains. "My mom grew up all over South America and spoke fluent Spanish. Also, as a Catholic, the Hispanic church is a huge part of our faith tradition and what makes up the culture of our church, so I've always had a deep love for it and have always wanted to do a song in Spanish."
"No Hay Temor En Tu Amor" features Blest, the Latin GRAMMY® and GMA Dove Awards®-nominated band, and Kroger could not be more thrilled with the way the translation came out and with their collaboration. She shares, "It was super special to work with Blest. They're so sweet and their voices are incredible! I'm just super proud of how it turned out."
The song speaks to the fear that we often let inform our decisions and who we believe we are. Kroger said that she is no stranger to that struggle and has learned so much as God has grown her over the years. She says, "Fear is absolutely not of the Lord and Scripture tells us perfect love cast out all fear. If we believe that to be true, then we can come to the Lord with our fears and surrender them. It is not His will for us to live in fear. His will for us to live as beloved children of a Father who's working for our good. We have to continue to surrender our fears, our doubts, the lies we believe, and pick up our identity as beloved children."
ABOUT SARAH KROGER: Growing up in Melbourne, Florida, Kroger developed a love for music as a child when she began singing in church choirs while following in the steps of her parents who were both music ministers. With a passion to create a safe, prayerful space through her music in which people can encounter the love of God, for the past nine years she leads worship at events around the world, using her talents to draw people together from a variety of cultures and church backgrounds under the banner of Jesus.
Prior to her Integrity Music debut of 
Bloom
 in 2019 followed by 2020's 
Light
, Kroger has released two other albums, 
Your Time
 (2011) and 
Hallelujah Is Our Song
 (2013), which features "Run To The Cross" and "In The Silence." To find out more, please visit 
SarahKroger.com