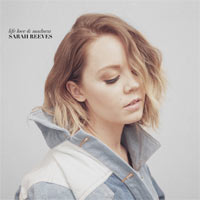 Curb | Word Entertainment recording artist Sarah Reeves officially unveils her highly-anticipated new LP, Life Love & Madness, available today (10/9). Reeves holds co-writing credit on each of the album's 14 tracks. Listen to the entire new project HERE.
In celebration of the release of Life Love & Madness, Reeves hosted a live virtual album release event on her Facebook and YouTube pages, performing each song from the album before the LP officially dropped. Fans can check out the event on her Facebook and YouTube pages through Sunday night, 10/11.
Life Love & Madness boasts some of the most vulnerable writing of Reeves' career, set against a backdrop of colorful, propulsive pop. American Songwriter has already showered Reeves' latest collection with praise, saying, "In a world that needs something to dance to, Sarah Reeves delivers 'Paradise.'"
Produced by Ian Keaggy (Hot Chelle Rae), Life Love & Madness is part mature reflection, part heartfelt confession. As a milestone birthday dawned a new decade for the singer/songwriter, she wisely took it as an opportunity to rewind the previous 10 years of her life and gain some much-needed perspective. Then, she set the past decade to lyric and music. Like a time capsule, her new LP preserves the best and worst of her 20s—a defining decade in every way.
"It was a venture of discovering who I am, learning how to love and letting all the madness in between become a part of my story," Reeves shares of the decade staring back at her in the rearview that informed her new album. "It's beautiful, chaotic, vulnerable and imperfect; but I wouldn't have these songs without the experience. I've used this album as therapy for what I'm feeling, and I hope it can be therapy for other people."
Leading up to today's release of Life Love & Madness, Reeves dropped a series of official music videos for six fresh tracks. The most recent being a moody visualizer for "Motions" that transports Reeves into a hauntingly beautiful forest and also finds the songstress literally wearing a brave face, void of any makeup. Cinematic clips are also available for "Heart First," "Paradise," "Dance To It," "Don't Feel Like Fighting" and "Anxious." View them all on Reeves' official YouTube channel HERE.
Purchase or stream Life Love & Madness HERE. For more info, visit www.sarahreevesmusic.com.
Life Love & Madness Official Track Listing:
2009
Heart First
Not My Style
Paradise
Drive
Motions
Dance To It
Fuel To My Fire
Don't Feel Like Fighting
Say The Word
Anxious
Easy To Love
Not Ready To Let You Go
When It Gets Good