Taking a cue from what he gets asked about most from fans, a desire to have some fun and to live out the golden rule, multi-platinum and GRAMMY® nominated Skillet front man John Cooper has officially launched his "Cooper Stuff" podcast today. Available on Skillet's YouTube Channel, iTunes and more, Cooper's goal is to post a new episode each month. With the first installment launching just before Valentine's Day, the theme of the debut podcast sees Cooper taking an honest, no holds barred approach to what makes a successful relationship – drawing from his 21 year marriage to Korey Cooper.
"In many ways the social media world has created an angry culture where people are constantly screaming at each other over philosophical, theological or political differences," explains Cooper.  "I meet people who are honestly confused about how to live and how to be a good person. People wonder if it's more virtuous to love and accept someone they disagree with, or to stand up and scream at someone they disagree with. I started the Cooper Stuff podcast for multiple reasons — it's a more in depth look for the fans into who I am and what I think, but it's also meant to be comic relief for an increasingly angry and stressed out world. I want to talk about living life in a really simple way. I want to share the Biblical foundations for the reason I hold these beliefs. It's not actually that complicated to be civil to those who disagree with you- to be fair and honest- and to treat others the way you want to be treated-all while seeing the brighter side of life."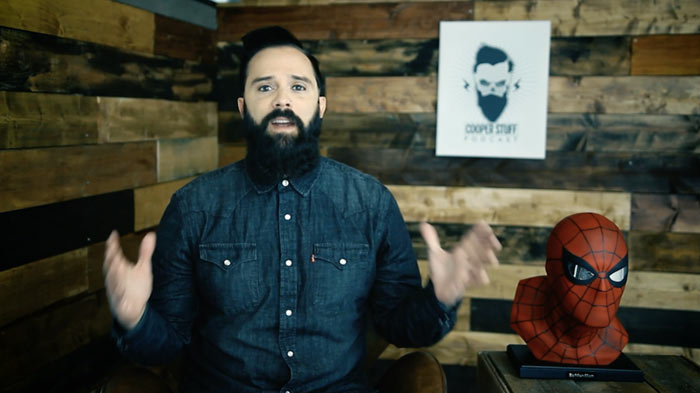 Currently working on their 11th studio project scheduled to release later this year (Atlantic), Skillet will once again tour with Breaking Benjamin and Fight The Fury for dates in March and April. Known for their vast tour schedule, the dates will be followed by a trek through the Russian Federation. Tickets for the two month trek are on sale now.
The band's latest effort, Unleashed, also recently garnered RIAA Gold status selling over 500K copies. The distinction follows suit with the lead single, "Feel Invincible," which was RIAA Gold certified in 2018. Unleashed is the fourth consecutive Skillet record to receive certification of either gold, platinum or double platinum. Likewise, "Not Gonna Die" just earned gold distinction, as found on their RIAA Gold certified album Rise.
The multi-platinum selling group closed out 2018 with over 1 billion streams worldwide. Skillet again claimed the No. 1 spot on the Billboard Year-End Christian Streaming Songs Artist Chart – an honor they have held since the chart's inception in 2014. The now RIAA Gold certified album Unleashed placed No. 9 on Billboard's 2018 Year-End Top Christian Albums Chart. The band's double-platinum track "Monster" topped the Christian Streaming Songs 2018 Year-End Chart, while also claiming the No. 7 and 8 spot with "Hero" and "Feel Invincible" respectively. Skillet was No. 5 on the 2018 Top Christian Albums Artists Year-End Chart.