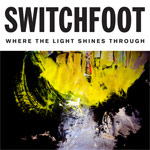 SWITCHFOOT's 10th studio album Where The Light Shines Through debuts at #1 on the Christian Albums chart, #3 on the Rock, Alternative and Overall Digital Albums charts and #10 on the Billboard Top 200, with more than 29,000 albums sold in the first week. The album was released on July 8th, 2016 via Vanguard Records in partnership with Capitol Christian Music Group.Where The Light Shines Through was produced in collaboration with John Fields, who helmed the multi-platinum breakthrough The Beautiful Letdown. "Live It Well" off of the project is currently No. 7 at Hot AC and Top 20 on the National Audience chart. PRESS HERE to watch the album trailer.
Where The Light Shines Through marks an important milestone in SWITCHFOOT's hugely successful career. The band's journey began in 1997 with the first of three indie releases before signing with a major label in 2003. Since then, the San Diego, CA based outfit have sold 5.7 million copies worldwide of their nine studio albums (including 2003's The Beautiful Letdown and 2009's GRAMMY Award-winning, Hello Hurricane). Where The Light Shines Through marks the band's return to the indie world and showcases that, two decades from their start, they're able to have a career filled with longevity, revitalization and rejuvenation.
SWITCHFOOT will embark on a fall co-headline "Looking for America" Tour with Grammy-nominated alternative rock band RELIENT K – see full tour routing below and tickets are on sale at www.switchfoot.com now.
SWITCHFOOT consists of Jon Foreman (vocals, guitar), Tim Foreman (bass), Jerome Fontamillas (keys, guitar), Drew Shirley (guitar) and Chad Butler (drums).
SWITCHFOOT & RELIENT K – FALL 2016 TOUR DATES
September 19 Denver, CO @ Paramount Theatre
September 20 Kansas City, MO @ Uptown Theater
September 21 Clive, IA @ 7 Flags Event Center
September 23 Saint Paul, MN @ Myth Live Event Center
September 24 Farmington, MO @ Farmington Civic Center
September 25 Madison, WI @ Orpheum Theater
September 28 Detroit, MI @ The Fillmore
September 29 Grand Rapids, MI @ Deltaplex
September 30 Chicago, IL @ House of Blues
October 1 Chicago, IL @ House of Blues
October 2 Indianapolis, IN @ Egyptian Room at Old National Centre
October 3 Toledo, OH @ Stranahan Theatre
October 6 Columbus, OH @ Express Live!
October 7 Cincinnati, OH @ Bogarts
October 9 Nashville, TN @ Ryman Auditorium
October 12 Pittsburgh, PA @ Stage AE – Indoor
October 13 Clifton Park, NY @ Upstate Concert Hall
October 14 Wallingford, CT @ The Dome
October 15 Huntington, NY @ The Paramount
October 17 New York, NY @ Playstation Theater
October 18 Boston, MA @ House of Blues
October 20 Lynchburg, VA @ Liberty University Vines Center
October 21 Bel Air, MD @ APG Federal Credit Union Arena
October 22 Richmond, VA @ Altria Theater
October 25 Philadelphia, PA @ The Fillmore
October 26 Silver Spring, MD @ The Fillmore Silver Spring
October 28 North Myrtle, SC @ House of Blues
October 29 Raleigh, NC @ The Ritz
October 30 Atlanta, GA @ Tabernacle
November 2 Charlotte, NC @ The Fillmore Charlotte
November 4 Saint Petersburg, FL @ Jannus Live
November 5 Fort Lauderdale, FL @ Revolution
November 9 New Orleans, LA @ House of Blues
November 10 Memphis, TN @ Minglewood Hall
November 11 Oklahoma City, OK @ Diamond Ballroom
November 14 San Antonio, TX @ The Aztec Theater
November 16 Dallas, TX @ House of Blues
November 17 Austin, TX @ Stubb's Waller Creek Outdoor Amphitheater
November 18 Lubbock, TX @ City Bank Auditorium
November 19 Rio Rancho, NM @ Santa Ana Star Center
November 20 Tempe, AZ @ The Marquee
November 22 Tucson, AZ @ Rialto Theatre
November 23 Las Vegas, NV @ House of Blues
November 25 Los Angeles, CA @ Hollywood Palladium
November 26 San Francisco, CA @ The Masonic
Get Connected With Switchfoot:
www.switchfoot.com
www.facebook.com/switchfoot
www.twitter.com/switchfoot
www.instagram.com/switchfoot