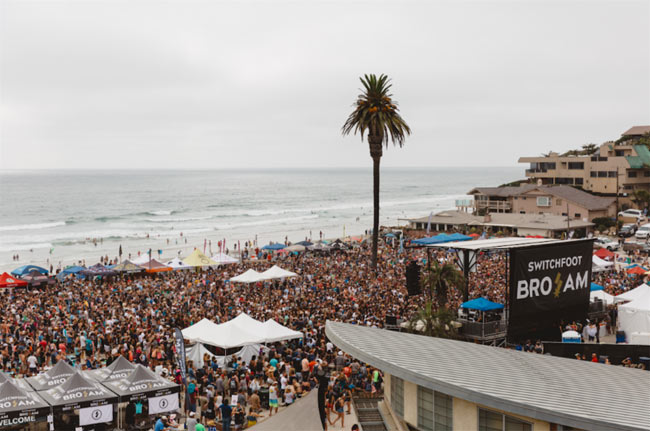 On Saturday, June 24th, Grammy-winning alternative rock band SWITCHFOOT celebrated the 13th annual SWITCHFOOT BRO-AM presented by Hurley and iHeartMedia at Moonlight Beach in Encinitas, CA. The annual community celebration and charity eventgathered over 17,000 people for the free Beach Fest and surf event, which raised over $200,000 to benefit local youth initiatives through VH1 Save the Music Foundation, Feeding San Diego, Challenged Athletes Foundation, A Step Beyond, StandUp for Kids, and Rob Machado Foundation.
The beachfront concert included performances from SWITCHFOOT, multi-platinum rock band Lifehouse, new super-group Jamtown featuring Donovan Frankenreiter, G Love and Cisco Adler, a surprise guest performance by singer Lauren Daigle, local band Sights and Sages who won this year's 91X Battle for the BRO-AM out of over 100 submissions, and a very special appearance by the VH1 Save The Music Foundation Youth Choirwho performed on stage with SWITCHFOOT.
In addition to musical performances, the diverse event included a variety of surf contests. The More "BRO" than Pro Team Surf Contest, where a four person team competes riding one wave regular and one wave switch, saw Team Hurley taking home the first prize thanks to members Brett Simpson, Yadin Nicol, Dane Zaun and Jordy Collins and a close second byTeam Quiksilver. The competition also featured a team from the Challenged Athletes Foundation, who entered for the first time. The Rob Machado Bro Junior Surf Contest, which is all about who has the most fun on their board, was won by Cole McCaffray, an Encinitas local who is a member of the US Junior Olympics Development Team. SWITCHFOOT drummer Chad Butler, dressed as a skeleton, jousted his way through the Surf Jousting Expression Session, complete with battle armor and Nerf weapons on an INT soft surfboard. This year, BRO-AM was able to award the top three places of their Challenged Athletes Foundation Kids' Adaptive Surf Series, to Sebastian Deposato, Jake Eastwood and Luolin Webster. 
The BRO-AM kicked off with the BRO-AM Benefit Party hosted by ViaSat on Thursday, June 22nd, gathering philanthropists and friends for an evening of local food and drinks, silent/live auctions and live performances.
Jon Foreman of SWITCHFOOT shares, "We are so honored that the local community would partner with us to host such a unique, inclusive, and meaningful event to help local kids in need. To see our hometown come together and help deserving kids is an incredible experience. Surfing, Music, and the San Diego scene at its best."
In 2005, after traveling the world, SWITCHFOOT dreamed up an idea to give back to their hometown that supported them as both surfers and musicians, to rally their great community and to invest in kids who might need a hand up. Thirteen years later, the BRO-AM has grown in impact and size gathering over 17,000 people to the beach for a "more bro than pro" team surf contest, Rob Machado Bro Junior surf contest, free beach concert and numerous vendor booths. The BRO-AM Foundation focuses on initiatives in two areas that create a thriving future – Physical and community well being along with opportunity and empowerment through music, art, surfing and education.
Beyond their career achievements and creation of BRO-AM, SWITCHFOOT has also maintained a deep commitment to a variety of humanitarian causes, lending their support to such worthy organizations as CURE International, DATA, the ONE Campaign, Habitat for Humanity, Invisible Children, and To Write Love on Her Arms.
For More Information on Switchfoot and BRO-AM, Please Visit:
Website: http://www.switchfoot.com/ – www.broam.org
Facebook: https://www.facebook.com/switchfoot
Twitter: https://twitter.com/switchfoot
Instagram: https://instagram.com/switchfoot
The Arts Program at San Diego International Airport also showed their support and partnered with SWITCHFOOT to create an exhibition highlighting BRO-AM, the band and the impact that such community partnerships have on the San Diego region. The exhibition is located at the airport in Terminal 2 near Gate 36 and will be on display through September for travelers past security checkpoints. Last week, the Airport also hosted a special pop-up performance by players from the San Diego Youth Symphony and Conservatory, as well as fourth through sixth grade singers from Casillas Elementary in Chula Vista who joined SWITCHFOOT on stage for two songs. For more information on the SAN Arts Program, please visit arts.san.org.
For More Information on San Diego International Airport Exhibit, Please Visit:
Website: arts.san.org