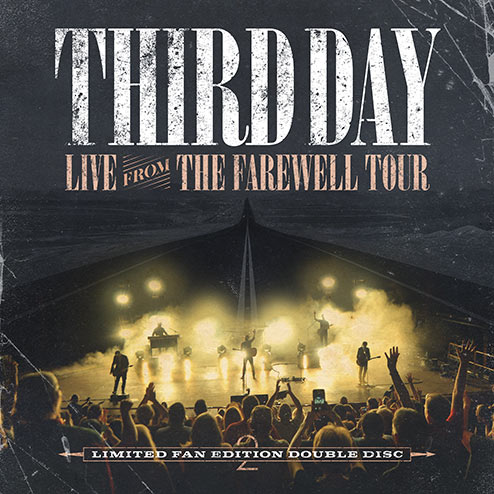 Today, Atlanta rock band Third Day, who broke up last year after two decades of touring and making music together, announced the surprise release of a new double-disc live album that was recorded on their farewell tour. Live from the Farewell Tour is currently available exclusively from ThirdDay.com as a digital download or in a 2-Disc "Limited Edition" CD release.
On their website, the band announced, "In June of 2018, Third Day put an exclamation point on their amazing 25+ year career with a 15 city "Farewell Tour." During the Tour, the band captured some of the very special live moments which has been compiled into this exclusive double disc set. This collection is meant to be a gift back to the fan community (aka "the Gomers") to commemorate the Farewell Tour and all the great memories these songs have brought about over the years. This limited 18-track release is self produced and made with love by our long time keyboard player and producer extraordinaire Scotty Wilbanks."
Head over to ThirdDay.com to order the CD or get the digital download now, and check out a video about the release.
Track list:
Disc 1
CONSUMING FIRE
MY HOPE IS YOU
SKY FALLS DOWN
I'VE ALWAYS LOVED YOU
KING OF GLORY
THIEF
SHOW ME YOUR GLORY
SING A SONG
I GOTTA FEELING
Disc 2
TUNNEL
CRY OUT TO JESUS TALK
CRY OUT TO JESUS
REVELATION TALK
REVELATION
OTHERSIDE
CHILDREN OF GOD
I NEED A MIRACLE
BLACKBIRD/GONE
FAREWELL MEDLEY
GOD OF WONDERS/AGNUS DEI