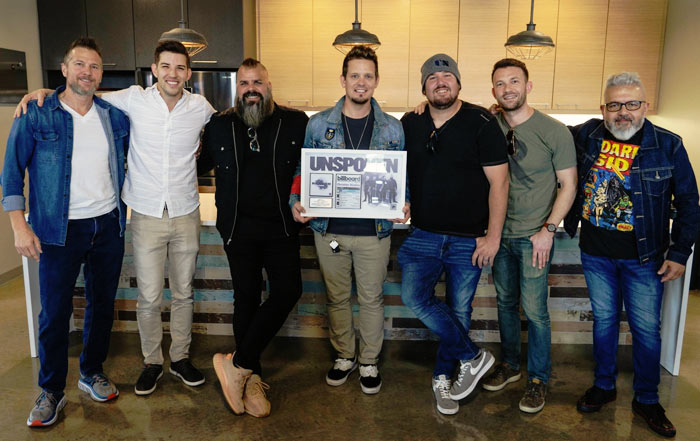 Centricity Music recording artist Unspoken launches its declarative, soulful anthem "You've Always Been" to radio as the follow up to the multiformat No.1 Billboard hit single and title track from the band's acclaimed, full-length and third album Reason that is available now at physical, digital and streaming outlets globally.
Receiving more than 165 million on-demand streams, 110 million music video views, 350,000 album sales and 850,000 track sales, Unspoken continues to additionally receive significant radio airplay nationally. With "Reason" not only topping the charts after releasing last summer, but also locking the No. 1 position for five consecutive weeks at Christian radio, "You've Always Been" is poised for similar success.
"You've Always Been" was born when Unspoken lead singer Chad Mattson woke up at 2:00 am one night and began watching an old, 50s-era gospel music group performing in black and white on TV.
"The singer of the group was blind and was vamping on how God had been his eyes," says Mattson. "I was moved in that moment, thinking how that is so true for my own life. Everything I've needed, everything I've really needed, God has been for me."
Stirred by God's provisions, even amidst painful battles against anxiety and insecurity, as well as depression among his family members, Mattson wrote the lyrics for "You've Always Been," a soulful declaration of God's constant, dependable presence.
Along with the new Tedd T. (for KING & COUNTRY)-produced radio single, the "You've Always Been" video was directed by Max Hsu (Superchick) and filmed in Unspoken drummer Ariel Munoz's hometown in Puerto Rico. Shot impromptu through the night as the band scouted for a place to record its "Human Condition" video, "You've Always Been," which has already received more than 500,000 views, ends metaphorically with the sun rising for the new day.
You've been my savior, sustainer
When I'm at my end
My healer, redeemer
Again and again
My mother and my father
Brother, sister and friend
Everything I've needed, Lord
You've always been
("You've Always Been" chorus)
Like Unspoken's videos and radio hits from the album, Reason showcases raw, authentic songs written out of the hard stuff of life alongside the band's pop musicality for which it has become known.
Taking its innovative new music, hit songs and fan favorites on tour, the band headlines events this month before joining The Roadshow 2020 arena tour presented by Compassion Live in March. Upcoming dates include:
Feb. 13 Arnold, MO First Baptist Church of Arnold Sports Ministries TICKETS
Feb. 15 Jackson, MO Connection Point Church TICKETS
Feb. 16 Dyersburg, TN First Christian Church TICKETS
Feb. 20 Cheshire, CT Calvary Life Family Worship Center TICKETS
Feb. 21 Burlington, VT North Avenue Alliance Church TICKETS
Mar. 5 Ypsilanti, MI Eastern Michigan University Convocation Center TICKETS
Mar. 6 Wilkes Barre, PA Mohegan Sun Arena At Casey Plaza TICKETS
Mar. 7 Salisbury, MD Wicomico Civic Center TICKETS
Mar. 8 Charlottesville, VA John Paul Jones Arena TICKETS
Mar. 13 Nampa, ID Ford Idaho Center Arena TICKETS
Mar. 14 Spokane, WA First Interstate Center for the Arts TICKETS
Mar. 15 Salem, OR Salem Pavilion TICKETS
Mar. 17 Fresno, CA Saroyan Theatre TICKETS
Mar. 19 Ontario, CA Toyota Arena TICKETS
Mar. 20 Tempe, AZ ASU Gammage TICKETS
Mar. 21 Albuquerque, NM Tingley Coliseum TICKETS
Mar. 22 Loveland, CO Budweiser Events Center TICKETS
Mar. 26 Independence, MO Silverstein Eye Centers Arena TICKETS
Mar. 27 Arlington, TX College Park Center TICKETS
Mar. 28 Cypress, TX Richard E Berry Center TICKETS
Mar. 29 Cedar Park, TX H-E-B Center at Cedar Park TICKETS
For all the latest Unspoken tour, music, news and more information, go to https://unspokenmusic.com/, Facebook, Instagram, Twitter, YouTube, Spotify, Apple Music, Amazon Music and Pandora.