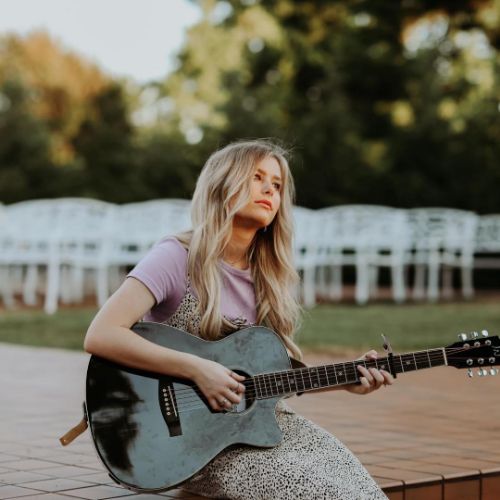 Estella Kirk, a 15-year old singer-songwriter, released her first EP today, Bright Side, as well as debuted her music video "Pretty Lies" (the fifth track) on YouTube. As a Christian-Pop artist her goal is to create music that positively impacts her peers and provides more positivity to her generation. Her message to her peers is to "Choose Wisely" and is also a program she created to speak to youth church groups about the benefits of listening to uplifting music and consuming positivity content online.
"On average, a teen spends over 7 hours a day on their phones and many studies have found a strong link between heavy social media and an increased risk in depression, anxiety, loneliness, self-harm and even suicidal thoughts," says Estella Kirk. "If we are consuming over 7 hours of something, we have to choose wisely to make sure we are surrounding ourselves with positive messaging and images."
Her most recent single "Pretty Lies" was actually inspired by a friend who once called her and said she was thinking about ending her life. Estella has seen first hand the damage social media and can cause on teens and has made it her mission to teach teens about "choosing their entertainment and music wisely." "I wrote this song to expose the pretty lies in our society from social media, so that we could all recognize our true value," says Kirk.
The five-song EP Bright Side is inspired by Isaiah 22:22 – "I will place on his shoulder the key to the house of David; what he opens no one can shut, and what he shuts no one can open." When Estella was working on the EP with Kira Fontana, Kira gave her a key necklace and explained the meaning behind it and referenced this very verse. The key now holds a special place in Estella's heart and reminds her that God is always there for her and walking with her every step of the way.
Her first single "Shelter in the Storm" was released during the start of the pandemic and received rave reviews, as she wrote the song to inspire faith and hope during one of the hardest times we have experienced in many years.
"Children and teens are impressionable. Who they hang out with and what they listen to today is a reflection of how they act tomorrow," says Estella Kirk. "According to research by social psychologist Dr. David McClelland of Harvard, "the people you habitually associate with determine as much as 95 percent of your success or failure in life." If we want to be successful, we have to choose wisely."
Bright Side EP Track Listing:
1. Shelter in the Storm
2. Eyes on You
3. Watching Over Me
4. Bright Side
5. Pretty Lies
The five songs are co-written with Kira Fontana, a former top LA celebrity vocal coach to major labels and shows such as "Glee" and "The Voice" – now a singer-songwriter, producer, and the founder of Kingdom Sound.
Kirk started working in the entertainment industry at age seven, modeling, acting, and singing. Kirk fell in love with singing at the age of six and grew up performing with a talent group in her hometown. She has performed during the iHeart Jingle Ball and at venues including the House of Blues, Gas Monkey Live!, and Harvard School of Law. She puts God at the center of everything that she does and strives to make music that appeals to all ages.
Estella is based in Southeast Oklahoma, home to other widely successful musicians like Reba McEntire, Carrie Underwood, and Blake Shelton.
Credits:
Written by Estella Kirk & Kira Fontana
Produced by Josh "Igloo" Monroy
Video Directed by Zack Patrick
Kingdom Sound – Music Production
Connect:
www.estellakirkmusic.com
Instagram: @estellakirkmusic
Subscribe to her YouTube Channel