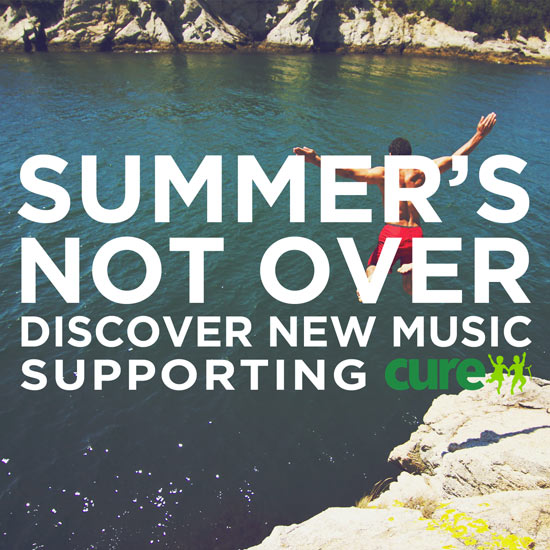 For a limited time, download BEC Recordings' FREE Summer's Not Over Sampler at Noisetrade! The Sampler includes 12 songs from current BEC Artists including 7eventh Time Down, David Dunn, Among The Thirsty, All Things New, Rapture Ruckus, Kutless, Aaron Gillespie, and more!
While you're downloading the Sampler, head over to Cure International's website and learn about the medical services they provide to people all over the world, and if you feel so inclined, donate to their amazing cause!
Track List:
1. Beautiful Life – Among The Thirsty
2. Have Everything – David Dunn
3. The One I'm Running To – 7eventh Time Down
4. Washed Over Me (Acoustic) – All Things New
5. You Brought Me Back to Life – Citizens & Saints
6. Reckless For Love (ft. Jonathan Thulin) – SHINEBRIGHT
7. Diamonds (ft. Trevor McNevan) – Manafest
8. Heartbeat – Shuree
9. Volcano (ft. Jonathan Thulin) – Rapture Ruckus
10. Where I Belong – Nine Lashes
11. Children of God – Kutless
12. You Alone Are God – Aaron Gillespie
ABOUT CURE:
CURE is a non-profit organization that operates charitable hospitals and programs in 30 countries worldwide where patients experience the life-changing message of God's love for them, receiving surgical treatment regardless of gender, religion, or ethnicity. The children served by CURE have conditions like clubfoot, bowed legs, cleft lips, untreated burns, and hydrocephalus. Without treatment, they will have little hope for a future. Many will die from their condition.
Since CURE's first hospital opened in Kenya in 1998, they have had over 2.7 million outpatient visits, provided over 191,000 life-changing surgeries, and trained over 7,200 medical professionals.
Find out more at http://cure.org and rest assured that every dollar you donate for this sampler will go to CURE international and their work around the world.