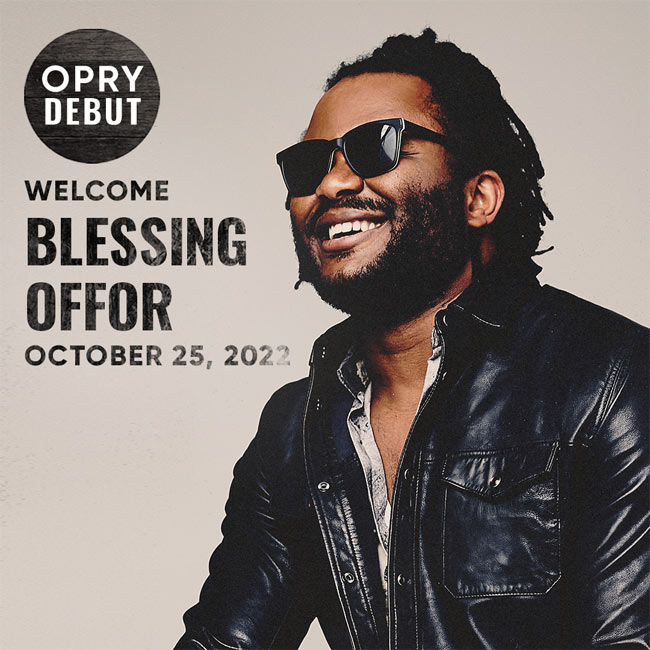 Fresh off of his first #1 single "The Goodness" with GRAMMY® winner TobyMac, multi-instrumentalist and Top 5 Billboard artist Blessing Offor will be making his debut on the Grand Ole Opry in Nashville, Tennessee. Knocking off a major item on his bucket list, Blessing will take the iconic stage on October 25th. Offor will be standing in the footsteps of some of the world's most renowned artists, and will bring his wit, storytelling, and unique sense of musicianship to the Opry stage. Tickets are available now at the link HERE.
"This is a moment I've dreamed of for a long time," Blessing says. "To follow some of my biggest inspirations and influences and walk into that circle … I'm still pinching myself. I can't wait to share my music on the Opry."
Recently, Blessing released the track "My Tribe" – a bouncing, upbeat ode to family & community. Starting off with a breakbeat reminiscent of soul music's greatest moments, Blessing's voice quickly comes into focus as his band starts to fill in. A fuzzy sawtooth synth carries the chorus where Blessing hones in on what it means to be surrounded by those who support you and accept you for who you are. Listen to the upbeat "My Tribe" at the link HERE.
2022 has proven to be a breakout year for the Nigerian-born, Nashville-based singer/songwriter. Recently, Blessing garnered a 2022 Dove Award nomination for "New Artist of the Year." Earlier this year, Blessing released his debut EP Brighter Days to critical acclaim, with the self-titled track peaking at #2 on Billboard's Christian Airplay chart. Blessing made his national television debut on NBC's The Kelly Clarkson Show, and subsequently released the Brighter Days (Live Sessions) EP, featuring intimate live versions of tracks from his debut EP. Now, having had a top 5 solo debut track and #1 follow up collaboration with TobyMac, Blessing is poised to release his next single to radio in early October.
See Blessing on tour this Fall with Brandon Lake and Lauren Daigle at the dates below:
Sept. 24th – Resorts World Theatre – Las Vegas, NV #
Oct. 7th – Bayside Church Granite Bay – Roseville, CA *
Oct. 8th – Rock Church – San Diego, CA *
Oct. 9th – SeaCoast Grace Church – Cypress, CA *
Oct. 14th – Gateway Community Church – Webster, TX *
Oct. 15th – Oak Hills Church – Crownridge Campus – San Antonio, TX *
Oct. 16th – College Park Center – Arlington, TX *
Oct. 21st – The Orion Amphitheater – Huntsville, AL #
Nov. 2nd – The St. Augustine Amphitheatre – St Augustine, FL #
Nov. 3rd – The St. Augustine Amphitheatre – St Augustine, FL #
Nov. 4th – Reardon Auditorium – Anderson, IN *
Nov. 5th – The Naz Church – Grove City, OH *
Nov. 6th – Calvary Church of Naperville – Naperville, IL *
Nov. 18th – Bell Shoals Church – Brandon, FL *
Nov. 19th – Christ's Church – Jacksonville, FL *
Nov. 20th – Seacoast Church Mount Pleasant – Mount Pleasant, SC *
Nov. 22nd – Seacoast Church Mount Pleasant – Mount Pleasant, SC *
* – w/ Brandon Lake
# – w/ Lauren Daigle
###