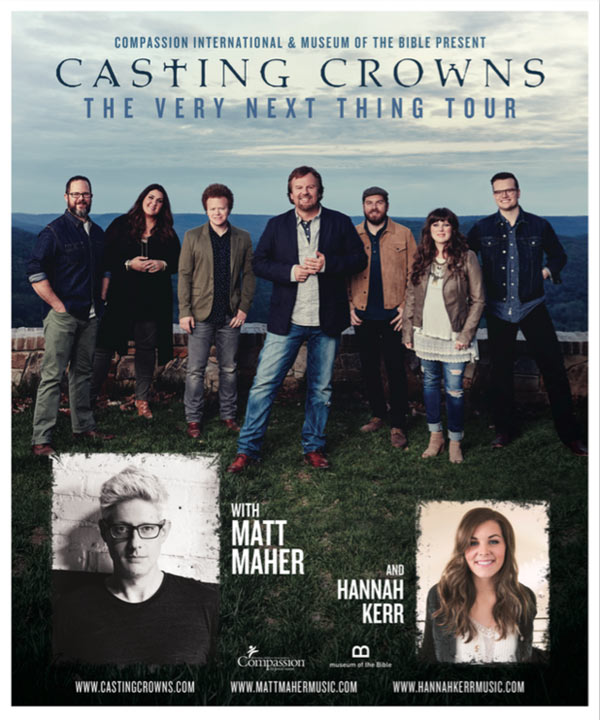 Multi-platinum selling and GRAMMY® winning group Casting Crowns announces the release of its new studio album, The Very Next Thing, on September 16, 2016 (Beach Street/Reunion). This marks the group's 15th release and eighth studio album since the label debut release in 2003. With more than nine million records sold, the band currently holds the position as Billboard's top-selling act in Christian music since 2007.
Casting Crowns began in, serves in and continues to be rooted in the local church. It is at the local level that they are walking along with people in ministry and where the inspiration for albums are formed.
"Because we have the honor of walking with people in our churches, we get to see what people are going through – the issues that are impacting everyone now," shares front man Mark Hall. "It is in these situations that ideas are born for what we all need to hear right here right now."
The Very Next Thing is full of intimate songs as well as upbeat, fresh sounding tracks that will meet the listener with lyrics that impact with a strong message song after song.
Hall shares the inspiration behind the new album and title. "We are all in different stages of 'next.' There's a next step from where you are right now. We all feel like there's a stage that we have to reach to move on to what is next – but God has you right here right now for your 'next,' and all of these songs touch on that idea."
Supporting the upcoming release, the group will be hitting the road this fall for "The Very Next Thing" tour presented by Compassion International and Museum of the Bible. The 39 city tour will feature label mate Matt Maher and special guest newcomer Hannah Kerr. Casting Crowns continues to impact fans with their powerful lyrics and live show as they have performed for more than six million fans. In addition more than 85,000 child sponsorships have resulted through Casting Crowns live shows.
ABOUT CASTING CROWNS: Prolific CCM band Casting Crowns has achieved sales milestones including one RIAA 2x multi-Platinum album, four RIAA Platinum albums, two RIAA Platinum DVDs, seven RIAA Gold albums, four Gold DVDs, one RIAA Platinum certified single and five RIAA Gold certified digital singles. The band currently holds the position as Billboard's top-selling act in Christian music since 2007. Casting Crowns has also been honored with four American Music Awards (out of seven total nominations), a GRAMMY Award for its 2005 album Lifesong, and six GRAMMY nominations. In addition, the group has garnered 17 GMA Dove Awards and two Billboard Music Awards from 11 total Billboard Music Award nominations. Casting Crowns' seven band members all remain active in student ministry in the Atlanta area and tour according to their local church commitments. Serving his 25 plus years in youth ministry, lead singer/songwriter Mark Hall maintains his role as the student pastor at Eagle's Landing First Baptist Church in Atlanta.
ABOUT MATT MAHER: Since his 2008 major label debut, Matt Maher has become a staple in the artistic and songwriting community. An eight time-GRAMMY nominee, he has garnered multiple radio successes writing and recording songs like "Lord, I Need You," "Hold Us Together," "Christ Is Risen," "All The People Said Amen" and "Your Grace Is Enough." Maher has penned songs recorded by Chris Tomlin, Crowder, Third Day, Matt Redman, Hillsong, Casting Crowns, Jesus Culture and Bethel among others. Matt has written or co-written five No. 1 radio singles. In 2013, Maher had a career highlight performing in Rio in front of Pope Francis and a crowd of 3 million people, as well as performing in 2015 in downtown Philadelphia as part of the World Meeting of Families with The Fray, Aretha Franklin, Juanes, Jim Gaffigan, among others. In 2015, Maher was awarded his first RIAA Gold certification for his popular single "Lord, I Need You."
ABOUT HANNAH KERR: Hannah Kerr is the first artist signed to the new label Black River Christian, which was started by Casting Crowns' Mark Hall, veteran producer/Sawyer Brown front man Mark Miller and Black River Entertainment CEO Gordon Kerr. Partnered with Provident Label Group, Black River Christian introduced Hannah last fall at the Christian Music Broadcasters Momentum (CMB) Conference. Kerr joined Matt Maher on his "Saints and Sinners" tour earlier this year and is currently working on her full-length album coming this fall.
ABOUT COMPASSION INTERNATIONAL: Compassion International is the world's leading authority in holistic child development through sponsorship. It is the only child sponsorship program to be validated through independent, empirical research. Compassion revolutionized the fight against global poverty by working exclusively with the Church to release children from poverty so that they may become responsible, fulfilled Christian adults. Compassion partners with more than 6,800 Christian churches in 26 countries to release over 1.7 million babies, children and young adults from poverty in Jesus' name. Compassion has been awarded the highest rating for financial stewardship and transparency for 14 consecutive years by Charity Navigator, America's largest charity evaluator. For more information on the ministry, visit compassion.com or follow them on twitter at @compassion.
ABOUT MUSEUM OF THE BIBLE: In 2017, the museum will open its 430,000-square-foot nonprofit museum just two blocks from the National Mall. This museum will showcase an unparalleled collection of antiquities representing 3,000 years of history and provide visitors with an immersive and personalized experience to deepen their understanding of the historical magnitude of the Bible and its impact on the world around us. As of 2015, the museum's traveling exhibits have visited six U.S. cities and four other countries including Vatican City, Jerusalem, Israel and Havana, Cuba. New exhibits and locations are continually being planned. The museum also supports research and education through the Museum of the Bible Scholars Initiative, the development of a Bible curriculum for students around the globe, and other programs such as archaeological digs and educational travel opportunities for both students and adults.
SEPTEMBER:
22 Abraham Chavez Theater – El Paso, TX
23 Grand Canyon University – Phoenix, AZ
24 Citizens Business Bank Arena – Ontario, CA
25 Henderson Pavilion – Henderson, NV
27 San Jose State University Event Center – San Jose, CA
29 Memorial Auditorium – Sacramento, CA
30 Moda Center – Portland, OR
OCTOBER:
1 Toyota Center – Kennewick, WA
2 Showare Center – Kent, WA
4 Brick Breeden Field House – Bozeman, MT
6 Red Rocks Ampitheatre – Morrison, CO
7 Santa Ana Star Center – Rio Rancho, NM
8 Amarillo Civic Center – Amarillo, TX
13 Baton Rouge River Center – Baton Rouge, LA
14 Shoreline Christian Center – Austin, TX
15 Reed Arena @ Texas A&M University – College Station, TX
20 Mabee Center – Tulsa, OK
21 Ralston Arena – Ralston, NE
22 Family Arena – St. Charles, MO
27 Bankers Life Fieldhouse – Indianapolis, IN
28 Schottenstein Center – Columbus, OH
29 Allen County War Memorial Coliseum – Ft. Wayne, IN
NOVEMBER:
3 Veterans Memorial Arena – Jacksonville, FL
4 First Baptist Woodstock – Woodstock, GA
5 Greensboro Coliseum – Greensboro, NC
10 Pensacola Civic Center – Pensacola, FL
11 Germain Arena – Estero, FL
12 Cruzan Amphitheater – West Palm Beach, FL
13 The Pavilion at the Centre of Tallahassee – Tallahassee, FL
15 Freedom Hall – Johnson City, TN
17 Hope Church – Cordova, TN
18 Bridgestone Arena – Nashville, TN
19 Mississippi Coliseum – Jackson, MS
25 Boutwell Auditorium – Birmingham, AL
26 Centurylink Center Arena – Bossier City, LA
DECEMBER:
1 Dunkin Donuts Center – Providence, RI
2 Eaglebank Arena – Fairfax, VA
3 Santander Arena – Reading, PA
4 Rupp Arena – Lexington, KY