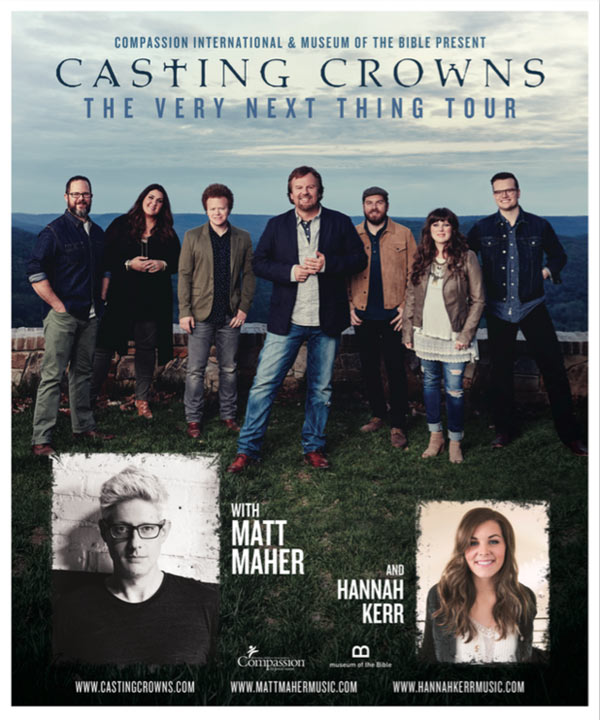 Multi-platinum selling and GRAMMY® winning group

Casting Crowns

will hit the road again this spring for the second leg of "The Very Next Thing" Tour, featuring K-LOVE Radio's Male Artist of the Year Danny Gokey and special guests Unspoken. Presented by Compassion International and Museum of the Bible, the 40-city arena tour kicks off Feb. 16, in Baltimore and will make stops in markets like Philadelphia, Milwaukee, Chicago, New York,
Pittsburgh, Raleigh, Orlando, Tampa, Grand Rapids, Minneapolis, Houston, and many more before wrapping up in San Antonio on May 7.
"The Very Next Thing" Tour supports Casting Crowns' newest studio album, The Very Next Thing, (Beach Street/Reunion). This marks the group's 15th release and eighth studio album since the label debut release in 2003. With more than 10 million records sold, Casting Crowns has held the position of Billboard's top-selling act in Christian music since 2007.
Casting Crowns began in, serves in and continues to be rooted in the local church. It is at the local level that they are walking along with people in ministry and where the inspiration for albums are formed.   
"Because we have the honor of walking with people in our churches, we get to see what people are going through – the issues that are impacting everyone now," shares front man Mark Hall. "It is in these situations that ideas are born for what we all need to hear right here right now."
The Very Next Thing is full of intimate songs as well as upbeat, fresh sounding tracks that will meet the listener with lyrics that impact with a strong message song after song.
Hall shares the inspiration behind the new album and title. "We are all in different stages of 'next.' There's a next step from where you are right now. We all feel like there's a stage that we have to reach to move on to what is next – but God has you right here right now for your 'next,' and all of these songs touch on that idea."
Casting Crowns continues to impact audiences with their powerful lyrics and live show as they have performed for more than six million fans. In addition, more than 85,000 child sponsorships have resulted through Casting Crowns' live shows. For more information on "The Very Next Thing" Tour, visit www.CastingCrowns.com. 
ABOUT CASTING CROWNS:
Prolific CCM band Casting Crowns has achieved sales milestones including one RIAA 2x multi-Platinum album, four RIAA Platinum albums, two RIAA Platinum DVDs, seven RIAA Gold albums, four Gold DVDs, one RIAA Platinum certified single and five RIAA Gold certified digital singles. The band currently holds the position as Billboard's top-selling act in Christian music since 2007. Casting Crowns has also been honored with four American Music Awards (out of seven total nominations), a GRAMMY Award for its 2005 album Lifesong, and six GRAMMY nominations. In addition, the group has garnered 17 GMA Dove Awards and two Billboard Music Awards from 11 total Billboard Music Award nominations. Casting Crowns' seven band members all remain active in student ministry in the Atlanta area and tour according to their local church commitments.  Serving his 25 plus years in youth ministry, lead singer/songwriter Mark Hall maintains his role as the student pastor at Eagle's Landing First Baptist Church in Atlanta.