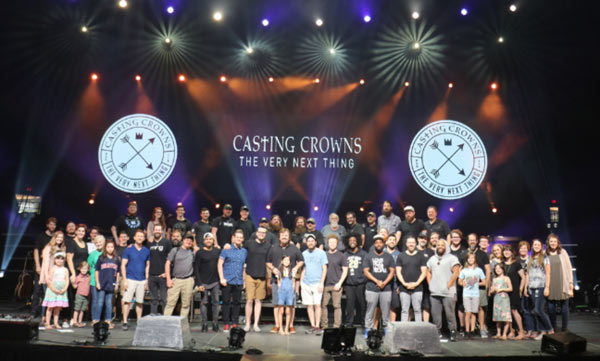 Grammy-winning and multi-Platinum selling Casting Crowns has just completed their Fall 2016 / Spring 2017 "The Very Next Thing" tour with 80 major market dates. The tour featured some of the most successful shows of the band's career, with multiple sold-out performances and an overall attendance topping 375,000, making this the most attended Crowns' tour since 2008. In addition to career attendance, the tour united more than 11,000 children with life-giving sponsorships through Compassion International. Following this extraordinary run, Casting Crowns is proud to announce a Fall 2017 extension of "The Very Next Thing" tour with Grammy-nominated Zach Williams. Tour dates for the fall will be announced at a later time.
"This tour was a special one," shares Casting Crowns' Mark Hall on the completion of the tour this past weekend. "Bands and crew truly formed a big family to lift up each other and the name of Jesus all across America. We were a tour on a mission!"
Spring tour artists and promoters also share their incredible experiences:
"Touring with Casting Crowns and Unspoken was not only a career highlight, but such a magnificent experience on so many levels. The leadership and relational impact fostered by the Crowns' team created an atmosphere like no other tour I've been on. You could see the life-changing effects it had not only on our audience each night, but also on everyone from artists, to crew, to catering. I'm so grateful to have been a part of Casting Crowns' ministry." – Danny Gokey
"This was one of the greatest tour experiences of our career. We were a part of so many life-changing experiences, both with our audiences as well as personally. We have made lifelong friendships and we are forever grateful to be a part of Casting Crowns' ministry." – Chad Mattson, Unspoken
"We were blessed to promote four shows on the Casting Crowns spring tour.  Artist lineup was amazing, crew as always great to work with, ministry to those in attendance – fantastic!  Ticket sales were strong in all four markets. Highlight of the run was the sold-out show at Target Center in Minneapolis.  A goosebump experience watching well over 11,000 people standing with arms raised in worship." – Dan Wynia, Northwestern Media
"'The Very Next Thing Tour' date we recently hosted at Giant Center in Hershey, Pa., was the biggest Casting Crowns show we've ever had in our market! The audience response was great — they loved the artist lineup on this tour! It was a privilege for WJTL to work with Casting Crowns again, and we look forward to many more sell-outs with them in the future." – Chris Strayer, WJTL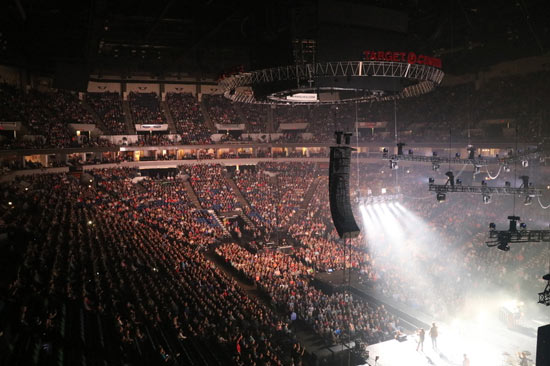 "The Very Next Thing Tour" sold-out show – Target Center, Minneapolis, MN
ABOUT CASTING CROWNS: Prolific CCM band Casting Crowns has achieved sales milestones with 10 million album sells including one RIAA 2x multi-Platinum album, five RIAA Platinum albums, two RIAA Platinum DVDs, seven RIAA Gold albums, four Gold DVDs, one RIAA Platinum certified single and five RIAA Gold certified digital singles. The band currently holds the position as Billboard's top-selling act in Christian music since 2007. ??Casting Crowns has also been honored with four American Music Awards (out of seven total nominations), a GRAMMY Award for its 2005 album Lifesong, and six GRAMMY nominations. In addition, the group has garnered 17 GMA Dove Awards and two Billboard Music Awards from 11 total Billboard Music Award nominations.
Casting Crowns' seven band members all remain active in student ministry in the Atlanta area and tour according to their local church commitments. Serving his 25 plus years in youth ministry, lead singer/songwriter Mark Hall maintains his role as the student pastor at Eagle's Landing First Baptist Church in Atlanta.
ABOUT ZACH WILLIAMS: Zach Williams comes to the Christian music industry with years of experience as front man of a mainstream rock band before coming to Christ, which radically changed his life. Eventually becoming the campus director and worship leader at Central Baptist in his hometown of Jonesboro, Arkansas, over time doors opened for him to write songs as well as garner a record deal with Provident Label Group/Sony Music.
Co-writing his debut single "Chain Breaker" with Jonathan Smith and Mia Fieldes, the song quickly climbed the charts and hit No. 1 at radio, holding the top spot for 15 weeks and earning him a GRAMMY nomination. "Chain Breaker" is also nominated at two more upcoming award shows – the Billboard Music Awards (Top Christian Song) and two for the K-LOVE Fan Awards (Song of the Year and Breakout Single). The song is found on the LP of the same name, which also includes Williams' second single, "Old Church Choir," now at radio.
Touring with Rend Collective, Big Daddy Weave and more, most recently Williams has been part of Chris Tomlin's Worship Night In America tour. He is also set to appear at numerous festivals this summer and will join two major tours this fall and Christmas. For the latest information, please visit www.ZachWilliamsmusic.com.