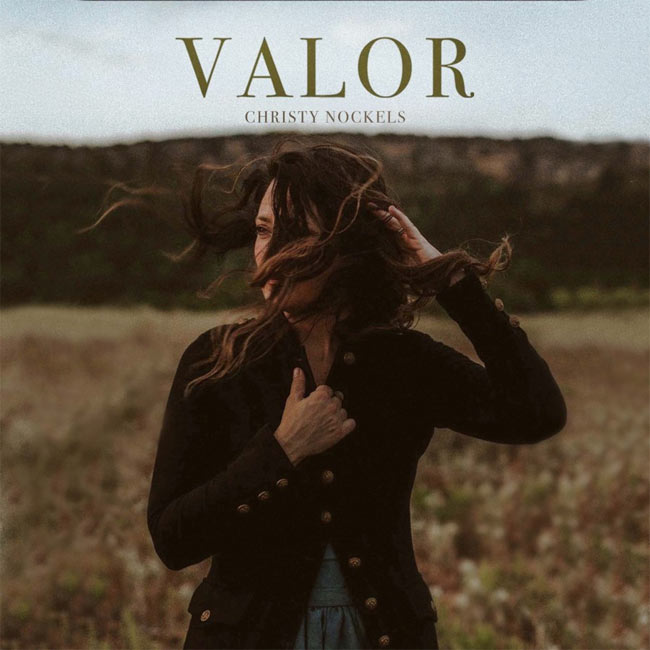 Three-time GMA Dove Award-winning worship leader, singer-songwriter, author and podcaster Christy Nockels releases her four-song Valor EP today (Jan. 20) on Keeper's Branch Records with global distribution via The Fuel Music. Available now at digital and streaming outlets worldwide via https://christynockels.lnk.to/valorepPR, the EP precedes this acclaimed worship artist's first new, full-length studio album in over five years that is set to release February 24, 2023 (title to be announced soon).
Produced by her husband Nathan Nockels (Passion, Matt Redman, Laura Story), the Valor EP's opening title track encourages noticing the faithfulness of God throughout our lives and how hardships, pain and trials are not for nothing.
"As odd as it sounds, when I wrote this song, I saw visions of pioneers and trailblazers—much like the ones I had seen in the TV series 1883 that aired only months before I began songwriting for this project," shares Christy. "Yes, we know that history repeats itself, and Ecclesiastes 1:9 tells us that 'there's nothing new under the sun,' but you and I are still new to the scene. We are pioneers in a strange world that we ourselves have never had to navigate before! Are we brave enough to be awake, alert, sober and surrendered in these times? Do we know what the true fight even is?
"My hope is that this song takes people on a journey—and trust me, it's a journey—and that they find themselves still standing in a perfect Strength, knowing full well that they don't face this hour alone!" continues Christy.
Co-writing "Christ In Me," the second track on the EP, with her husband, Christy says, "I love that these two songs ended up being paired together as a part of this special release! After all, the song 'Valor' says, 'Jesus, your cross, your death, your resurrection life in me—you will always be my valor!' It is the life of Christ in us that gives us the very strength to stand in every circumstance and trial. And even more, His life in us looks like longings being fulfilled, joy realized and hopes met. No, our surroundings and situations and seasons may not always reflect this, but 'Christ In Me' says right from the get-go, 'Jesus, you're the strength that carries through, so I don't want to live a day without you.'
"There have been many beautiful songs written about us being 'in Christ'," adds Christy, "but few that I know of that sing of Christ being 'in us.' Both are true and worthy of song!"
Rounding out the EP are two songs first released last fall, including "Come Magnify," which is a beautifully simple response of heartfelt praise, and "Home," a song inspired by John 14:23.
For all the latest Christy Nockels music news, tour dates, videos and more information, go to http://christynockels.com/, Facebook, Twitter, Instagram, YouTube and Spotify.