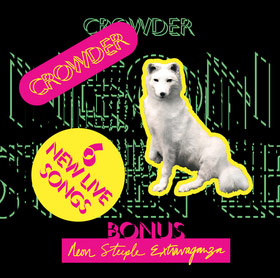 After a surprise digital EP release last fall, Crowder has debuted Neon Steeple Extravaganza, an expanded edition of his widely acclaimed Neon Steeple (2014) available in retail stores today. Included in the physical release are songs from his first solo debut as well as six new live songs from Neon Porch Extravaganza (2015).
Bearing the name of Crowder's faithful touring sidekick, KennyRodgersTheArticFox.com transports listeners via video to the lively Atlanta gathering where Crowder recorded the live tracks amongst a petting zoo, mechanical bull and drones. Raving over the live versions of his Neon Steeple Tunes, critics have ranged the performances from "fun" and "progressive" to "raw" and "emotional." To purchase Neon Steeple Extravaganza on Amazon, click here.
Shortly after receiving a GRAMMY® Nomination for Best Contemporary Christian Music Performance/Song, Crowder joined Chris Tomlin, Matt Redman, Christy Nockels, Kristian Stanfill, Melodie Malone, Brett Younker and Jimi Cravity for the latest Passion album, Passion: Salvation's Tide Is Rising. The release earned No. 1 on the Billboard Christian Chart, No. 3 on Billboard's Digital Albums Chart and No. 6 on the Billboard Top Albums Chart. Crowder is currently taking his renowned live stage show across the country as part of the Winter Jam Tour Spectacular.
Neon Steeple Extravaganza
Disc One:
1. Neon Intro
2. My Beloved
3. I Am
4. Come Alive
5. Lift Your Head Weary Sinner (Chains)
6. Come As You Are
7. Hands Of Love
8. Jesus Is Calling
9. My Sweet Lord (feat. Emmylou Harris)
10. This I Know
11. Ain't No Grave
12. You Are
13. Here's My Heart
14. Steeple Outro
Disc Two:
1. My Beloved Live
2. I Am Live
3. Lift Your Head Weary Sinner (Chains) [feat. Tedashii] Live
4. Hold On, We're Going Home Live
5. Come As You Are Live
6. Hands Of Love Live