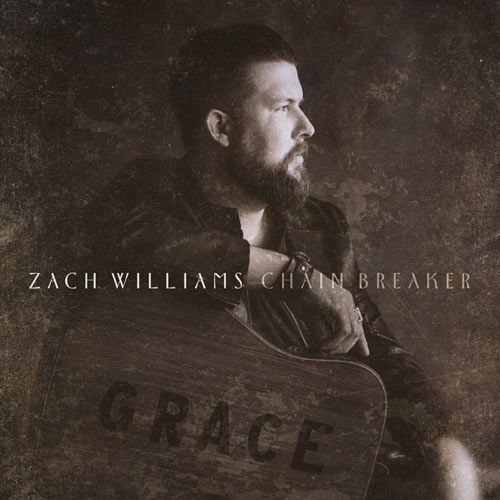 Provident Label Group and Essential Records announce the signing of Zach Williams to their artist roster. Williams made his performance premiere this past week at the CMB Momentum Summit in Nashville, where he performed his upcoming debut radio single, "Chain Breaker." The single will be going to radio June 3, 2016. Click here to purchase the single currently available digitally.
Williams comes to the Christian music industry with years of experience as front man of a mainstream rock band before coming to Christ, which radically changed his life. Williams' musical career began when his college basketball dreams came to a halt due to an injury, which led him to pick up the guitar and learn how to play. His new love of music took him to the next season in his life, which unfortunately introduced him to a life of partying that stayed with him well into his adulthood.
After leaving college, Williams moved back home and continued playing music for anybody and everybody who would lend an ear. While touring with his rock band around the world, he continued the cycle of making bad decisions. After many years of running away, Williams felt something inside yearning for a change. An invitation to church from a bandmate changed Williams and his wife's lives after they started attending and found open arms and acceptance.
Zach Williams eventually became the campus director and worship leader of Central Baptist's new campus in Jonesboro. Over time, doors opened for him to write songs with Jonathan Smith and Mia Fieldes. That led to the three of them to write "Chain Breaker," a tribute to the goodness of God in our lives.
"I did the whole rock star thing for so long and I felt like I was always faking it, and now I really just want to be real with people. Please don't wait another minute, make the decision today to follow Christ. I wished I would've done it 20 years ago. I wished I would've never gotten into drugs and alcohol and all that came with it. If you don't know what you're doing with your life then find a quiet place, fall down on your hands and knees, and ask God to come in and save your life. Surrender everything to Him. Jesus came and died on the cross so there would be a way for the chains of those struggles and addictions to be broken. If you have pain, He's a pain taker, if you're lost, He is the way maker, and if you've got chains, He's the chain breaker. The first step is allowing Him to come in so He can set you free."
Check out his story and the story behind the single "Chain Breaker" here: http://www.zachwilliamsmusic.com