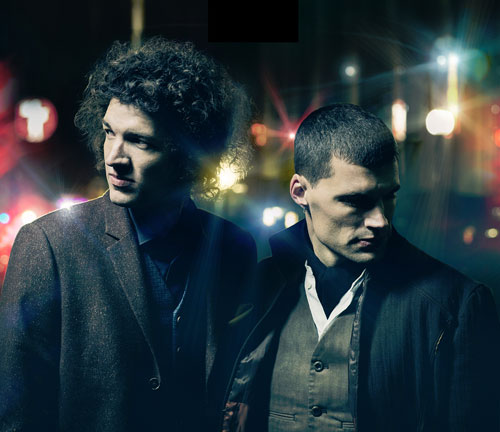 Two-time GRAMMY® award-winning duo for KING & COUNTRYjust released their new song "Amen," and a breathtaking music video to go with it, which was added to Spotify's "New Music Friday" Playlist today. This marks the fourth instant grat track from their highly anticipated album Burn the Ships, out October 5th. You can watch the video HERE.
"A year and a half ago, Luke came into the studio and shared a personal story," reflects Joel Smallbone, one half of for KING & COUNTRY. "That personal story ended up becoming this song. He had heard the minister speak about the meaning of baptism and Luke felt compelled to make that statement once again as an adult. There was a tangible moment as he rose out of the water where time stood still, and a new day had begun. This story of death to life became our song, 'Amen.' We chose to film this music video in the Salt Flats of Utah, which is the flattest place on the earth. The location resonated with the dark and desolate life without great hope."
The groundbreaking new video seamlessly takes for KING & COUNTRY on an epic journey where they brave the elements and find salvation through persistence and belief.  The message of the song is portrayed expertly in the video, showing that while every voyage may have its moments of desperation, it's faith and determination that can turn the darkness into light. From braving a desert rainstorm, to experiencing beautiful underwater landscapes, this music video is an absolute visual treat.
The band has also announced the Burn the Ships | Album Release Tour, presented by AEG, in support of their upcoming record. Due to a SOLD-OUT show at the historic Ryman Auditorium in Nashville, TN, on October 14th, for KING & COUNTRY added a matinee show, beginning at 4 p.m. To purchase tickets, CLICK HERE. Fans will get an even closer look at the duo, as the tour includes some of America's most intimate venues across the country. The 11-show trek kicks off on October 2nd and will stop in major U.S. cities like New York, Nashville, Dallas, Denver, Seattle, with more shows to be added due to high demand.
"joy," the lead single from for KING & COUNTRY's forthcoming album, is No. 1 for a second week and has received over 12.9 million streams. "joy." was included on USA Today/The Tennessean's "Best Songs of the Year" (so far) all-genre list, proclaiming "'joy.' is an infectious, upbeat anthem about choosing to be joyful in the face of hardship." "joy." reached No. 1 on the Australia TCM Top 30 Chart, Billboard NCA Chart, Mediabase Hot AC Chart, and Canadian Radio Chart. Furthermore, their previous instant grat track "God Only Knows" reached Top 50 on Spotify's Top 50 Global and Viral 50 USA charts.
CLICK HERE to pre-order for KING & COUNTRY's upcoming album Burn the Ships.
For more information on for KING & COUNTRY, log onto: www.forkingandcountry.com
Or follow them on Facebook Instagram and Twitter