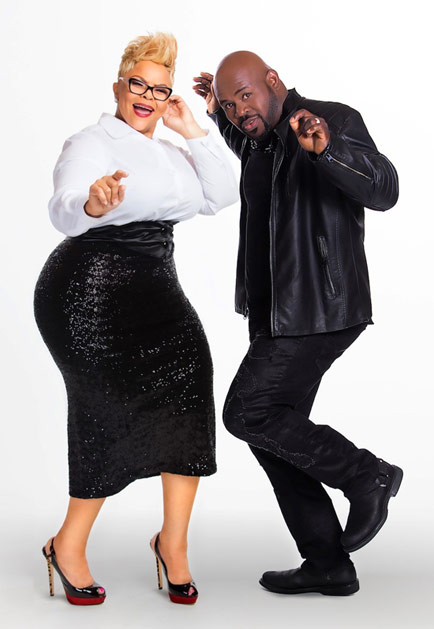 Grammy® Award-Winning Platinum Recording Artist Tamela Mann and NAACP Image® Award-Winning Comedian David Mann announce the 2017 fall tour dates for their wildly popular Mann's World Family Tour featuring David, Tamela, son David Mann Jr, and daughter Tia Mann, sharing an evening of music, comedy and family entertainment. The Mann's World Family Tour returns to the stage on September 1 in Miami with more than 20 dates planned for the fall. Following the capacity-crowd spring concert turn-outs, brisk ticket sales are anticipated so promoters are already putting shows on sale.
"We're excited to get back on the road this fall and go on tour with our kids. It's not just a concert, or a comedy show, it's a family experience," says David Mann, executive producer of the tour.
Featured each night are Tia Mann performing new music, DJ David Mann, Jr., a comedy set by David Mann, a full concert by Gospel's leading lady, Tamela Mann, along with a few surprise guests.
Coinciding with the announcement of their fall tour dates this week, Tamela was honored to receive her fifth No. 1 on Billboard's Gospel radio chart for her single, "Change Me."
"I'm thrilled and grateful that Gospel radio and their listeners love this song," says Tamela. "It blesses me every time I sing it! I can't wait to share it with audiences in concert this fall."
MANN'S WORLD FAMILY FALL 2017 TOUR:
9/1 Miami, FL
9/8 San Antonio, TX
9/15 Los Angeles, CA
9/16 Oakland, CA
9/17 San Diego, CA
9/22 St. Louis, MO
9/23 Little Rock, AR
9/24 Oklahoma City, OK
9/29 New Orleans, LA
9/30 Columbus, GA
10/1 Mobile, AL
10/6 Indianapolis, IN
10/7 Cincinnati, OH
10/27 Philadelphia, PA
10/28 Newark, NJ
10/29 Baltimore, MD
11/3 Norfolk, VA
For more information, full tour schedule, and to get tickets to The Mann's World Family Tour: http://www.mannstour.com/
To view The Mann's World Family Tour trailer: https://www.youtube.com/watch?v=05bLGYgbzCI
For the latest updates on Tamela and David Mann:
Website: www.tillymannmusic.com
Facebook: www.facebook.com/davidtamelamann
Instagram: @DavidandTamela
Twitter: @DavidandTamela
God Provides music video: https://www.youtube.com/watch?v=ugS_wlFhcus