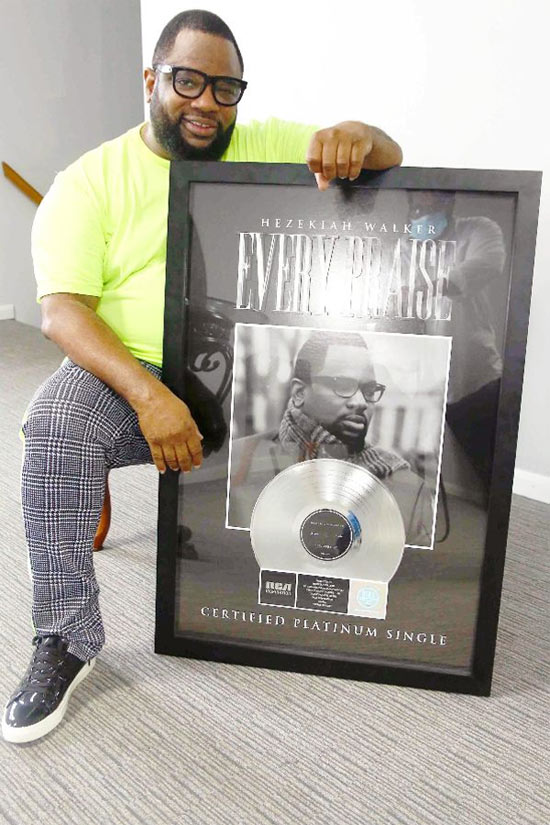 The luminous hit song "Every Praise", which was certified Gold in December of 2019, is now certified platinum by the RIAA. After Hezekiah Walker performed "Every Praise" at the Minneapolis memorial service for George Floyd, there was a massive renewed interest from people wanting to add a dose of faith-filled inspiration to their personal playlists during one of the most challenging times of social unrest in recent history.
"Every Praise" is featured on Walker's 14th album Azusa: The Next Generation, which was released in 2013. The song had a 26-week #1 run at Gospel radio, and was on the Billboard Hot Gospel Songs chart for an incredible 67 weeks. In 2019, "Every Praise" was named Gospel Song of the Decade by Billboard Magazine.
"'Every Praise' is the epitome of worship and its proper direction," said singer and radio host Yolanda Adams when the song was first released. It has served as a mainstay for Christians around the world, and this is not the first time that it has provided a reference for healing and strength during immense challenge.
In 2014, a young boy in Georgia sang the song for nearly three hours straight while he was in the back of a car after being kidnapped from his driveway. His kidnapper kept telling him to "shut up," but he didn't – and he was ultimately released unharmed.
"When I first heard 'Every Praise,' I knew it was a song that I needed to record. To know that the song physically saved a young child's life is the greatest feeling that no award or crowd can give," says Walker. "I love the song because it is simple and has a purity about its worship essence. I believe those are also the elements that draw people in, and that make it a song that – once you hear it – just stays with you. The fact that 'Every Praise' is still a reminder of God's faithfulness and presence during challenging times, even seven years after it was recorded, is humbling. It's a constant reminder that no praise belongs to us, but all praise belongs to Him. I'm grateful to everyone who has been a part of 'Every Praise' being certified platinum."
Hezekiah Walker is a Gospel music pioneer, and the traditional sound and energetic style of his Love Fellowship Choir has influenced a generation of great singers and ensembles. His passion for choirs led him to launch HezHouse Entertainment as a platform for keeping progressive choir music alive. The first two artists signed to HezHouse, which is distributed through RCA Inspiration, are Vincent Bohanan & SOV and Kevin Lemons & Higher Calling. Walker says that both of these groups embody "the strength of the new millennial sound of choirs."
Hezekiah Walker is senior pastor of Love Fellowship Tabernacle, with locations in Brooklyn, New York and Bensalem, PA. He is also a Bishop in the Pentecostal Church through which he oversees 28 churches in the U.S. and South Africa. The Brooklyn native is a dedicated New Yorker and a seminal fixture in his home borough. He will break ground soon on HezHouse Apartments, an affordable and supportive housing development by Hezekiah Walker & Love Fellowship Tabernacle, Brooklyn Community Housing & Services, and Alembic Community Development. Walker is also host of the The Hezekiah Walker Gospel Countdown and the Hezekiah Walker Afternoon Praise Show syndicated by AURN.