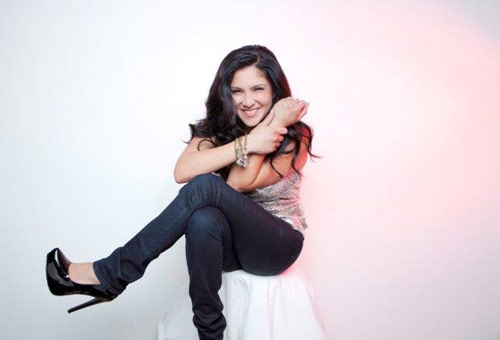 Grammy® Award-nominated, Platinum-selling artist and syndicated radio show host JACI VELASQUEZ is expanding her business ventures to include the new fashion brand, N+J=Z. Velasquez is collaborating with celebrity designer and Project Runway All-Star, JOHNATHAN KAYNE, to create beautiful, wearable, affordable everyday fashion. Proceeds from garments sold will benefit autism awareness organizations, including Autism Tennessee.
The N+J=Z brand launches summer 2016 with a casual but elegant "Foster" dress – designed for women that want to be fashion-forward, beautiful, and ageless. Each dress is made of state-of-the-art tech neoprene fabric for a comfortable, form-fitting feel. The versatile dress is the missing 'piece' in every woman's wardrobe – it is perfect for dressing up on night out or a casual weekend day trip. The garment has hidden pockets and invisible zipper and a special hem that holds the full skirt shape. Dresses come in black, red and white, and are offered in extra small, small, medium, large and extra large. In addition to the dress, N+J=Z will introduce a jewelry and accessories line, launching with a small distinctive puzzle piece accessory representing the Autism Awareness movement.
"Designing a fashion brand is like art. Creating a dress that suits a variety of body types and compliments the things we want to be seen and hides the things we don't want to be seen – we did all that on this dress," said Velasquez.
"The essential Little Black Dress is a staple for every woman's wardrobe. I worked closely with Jaci to create the most comfortable, fashionable and versatile little black dress," said Kayne.
The fashion brand debuted during National Autism Awareness Month in April, at the Light It Up Blue Runway Fashion & Design Autism Awareness Benefit in Velasquez' hometown of Franklin, TN. The event raised funds and awareness for autism organizations Autism Speaks and Project Search at Vanderbilt. California Closets hosted the fashion show and exhibit the "Foster" dress in their newly designed showroom. The event was broadcasted live by 94FM the FISH Radio.
The new brand is inspired by Jaci's love of fashion and passion for her family. N+J=Z are the initials of singer/songwriter Nick Gonzalez (N), her husband, Zealand (Z), their son, and Jaci (J). In March of this year, Zealand was confirmed with an autism spectrum diagnosis. As Jaci and Nic searched for information and help to understand the implications of this potential diagnosis several years ago, they discovered organizations that not only provided education and support, but services for families like hers. When she and Johnathan Kayne decided to collaborate on the fashion line in 2015, she immediately decided the brand's proceeds would go to agencies that support and inspire families like hers on their journey. And to make it even more of a family affair, son Zealand designed the fashion brand's logo.
"It was a natural fit to partner with Autism Tennessee." Velasquez said. "They are based in Tennessee and support and provide services for families around the state like mine. As a hometown girl, I wanted to give back to families in my community."
Autism Tennessee is thrilled with the partnership and said, "We are honored to partner with Jaci on her new clothing line. When people choose Jaci's clothing, they should know that they are buying quality products while supporting an organization that offers hope to families affected by autism. Autism Tennessee is inspired by Jaci's compassion."
To Connect with Jaci Velasquez, view the dress and find out more about the line, visit:
N+J=Z: http://www.njzclothing.com/
Jaci Velasquez Website: http://www.jacivelasquez.com/
Facebook: https://www.facebook.com/JaciVelasquezOfficial/?fref=ts
Twitter: http://bit.ly/24g6w5K
Instagram: https://www.instagram.com/jacivelasquez/?hl=en