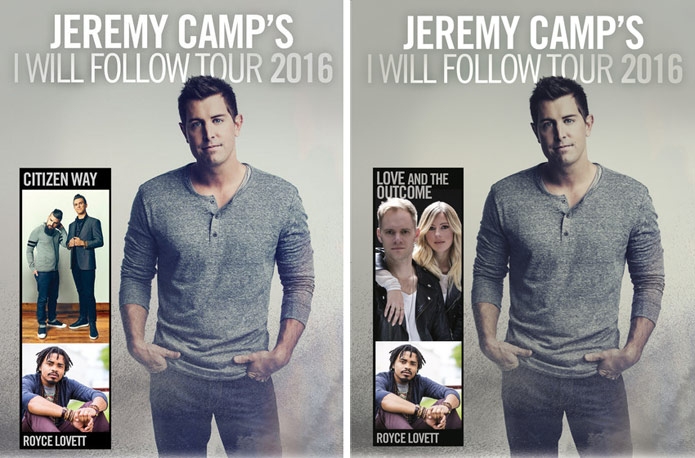 GRAMMY® nominated Jeremy Camp announces his upcoming "I Will Follow Tour" in partnership with Compassion International, kicking off this fall in Charleston, SC. On the heels of garnering three No. 1 singles from his hit album I Will Follow, Camp will trek alongside Citizen Way and Royce Lovett for the first half of the tour, along with Love and the Outcome and Royce Lovett over the second half, hitting over 20 markets nationwide. In anticipation of the tour, Camp launched the newly renovated JeremyCamp.com on July 28.
Earlier this month, Billboard featured Camp's latest success in claiming the most No. 1s among solo artists on Billboard's Christian Airplay chart. "Christ In Me" is his latest single to rise to the top, becoming Camp's ninth No. 1 hit on the chart.
For more information on Jeremy Camp and the "I Will Follow Tour," visit www.jeremycamp.com/tour.
"I Will Follow Tour" Dates
*All dates subject to change
September 30 – Charleston, SC – Ashley River Baptist Church
October 1 – Durham, NC – Catch the Fire Church
October 2 – Lexington, SC – Mt. Horeb United Methodist Church
October 8 – Beaumont, TX – Montagne Center – (Lamar Univ.)
October 13 – Kentwood, MI – Kentwood Community Church
October 14 – Louisville, KY – Valley View Baptist Church
October 15 – Kingsport, TN – "Harvest Fest 2016 (Meadowview Conference & Conv. Ctr.)
October 20 – Topeka, KS – Light of the World Christian Center
October 23 – Albertville, AL – Albertville Fine Arts Center
October 27 – Mountain Grove, MO – Mountain Grove High School Arena
October 28 – Muskogee, OK – Muskogee Civic Center
October 29 – Poplar Bluff, MO – Black River Coliseum
November 3 – Elkhart, IN – The Lerner
November 4 – Muncie, IN – Emens Auditorium (Ball State Univ.)
November 5 – Mount Sterling, KY – Montgomery County High School Gym
November 6 – Heath, OH – Vineyard Grace Fellowship
November 10 – Bensalem, PA – Christian Life Center
November 11 – Cicero, NY – Believers Chapel
November 13 – Lancaster, PA – Lancaster Bible College