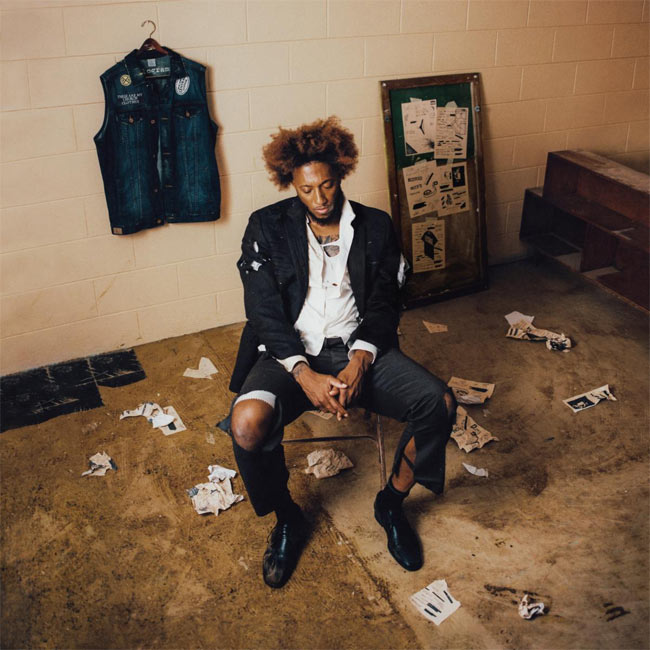 Before the Grammys, multi-platinum sales, and releasing the #1 Album on Billboard's Top 200 Charts (Anomaly, 2014), Reach Records' president & co-founder, 
LECRAE
, dropped arguably the most seminal project in his catalog, Church Clothes. In the ten years since Church Clothes initially dropped, Lecrae has evolved from an artist into a New York Times best-selling author, investor, thought leader, entrepreneur, activist, financial educator, and philanthropist. Yet, his mission remains the same, to represent faith and hip-hop with an unashamed edge!
On November 4
th, 
he releases 
Church Clothes 4,
 the last in the mixtape series with 13 songs and features from Andy Mineo, WHATUPRG, nobigdyl, Jon Keith, A.I. The Anomaly, and Jordan L'Oreal. In the final chapter of Church Clothes, Lecrae reveals that he's "righteous but ratchet," explaining, "I'm a child of hip-hop. I grew up with rap music, and God transitioned and transformed me when I became a believer! After that, people felt I didn't belong in hip-hop anymore. The Church Clothes mixtape series helped them understand there's a place for artists like me. If Wu-Tang can spit the 5 percent gems, Kendrick can talk Hebrew Israelites, and Ice Cube and Lupe can declare their Islamic faith, why is there no space for Christian hip-hop artists? So, the first Church Clothes (released in 2012) was about me getting mine off and spitting what's in my heart."
While he uses his talent to help people dive deeper into their faith, his love for hip-hop is not limited to Christian Hip-Hop. In the Church Clothes 4 skits, he states, 'I love the trap and the church, E-40, and Jesus. You can add Tupac, Biggie, NWA, Lauryn Hill, Eazy-E, E-40, OutKast, and more to that list." In the previous release of Andy Mineo's single and video, "
Been About It
," he and Mineo even pay homage to the artists mentioned above.
"People struggle with the concept of me being righteous and ratchet. I've created music with Zaytoven and connected and collaborated with secular artists like Ty Dolla $ign. You don't get the righteous music that you appreciate, without the ratchet side of me. The ratchet side is what birthed it. If I weren't sitting in my uncle's car, listening to rap music in the hood, I wouldn't have the skillset or heart I have now. If I didn't come from the environment that shaped me, I wouldn't be on the West Side of Atlanta helping to open Peace Preparatory Academy. You don't get the righteous without the ratchet! I'm both at the same time. It's the fusion!"
His first single, "Spread The Opps," is Lecrae asking God to spread the opposition out. "There's always going to be opposition when you bring truth and reality. The Church Clothes series brings both, so I expect to face opposition. But I'm standing on what I believe in and letting God do the rest."
One of Lecrae's favorite tracks on the album because of its lyrics, production, and concept is "Fear Not." "I helped co-produce this one. We had to bring in the Portuguese and Yoruba to round it out and make it a global track. It's about not having any fear, standing firm on what you believe, and knowing that God will work it out in the end."
A second favorite is "Still In America!" "Hands down 'Still In America' is one of my favorite songs on Church Clothes 4. It's a reboot of 'Welcome To America' from my Anomaly album. In this song, I'm saying we're still in America. These issues are still the issues that we deal with regularly. There are discrepancies on both sides of the fence. I don't care if you're progressive, liberal, or conservative. You gotta look at yourself in the mirror, and every time you got your fingers pointed, there's fingers pointed right back at you. We all have to take a look at ourselves for us to walk together in unity."
The chemistry with Andy Mineo continues with "Good Lord," a super fun track Lecrae describes as nostalgic. "We dive back into that 70's era style of music. It's just good hip-hop. It is reminiscent of when music was fun! Good times!" The nostalgia continues with "Take Me Up" ft WHATUPRG. "We sampled the Bonz Thugs and Harmony mega-hit Crossroads. It brings that feeling we had back then, but it's also a real story about my real family members, friends, and the desire to see things from a brighter side."
On his single "CC4," Lecrae pays homage to where he began on CC1. "It's great production and just bars! I start with the same cadence and concept, but this song has no good guys or bad guys. Everybody is liable to take a shot at this. For there to be unity, you must expose the reality of everybody's perspective." The "I-45 freestyle" features additional vocals from Tedashii and takes the two back to their Texas roots. "On I-45, I'm letting 'em know that these Texas boys got bars – Faith or not, I still care about the craft and art of hip-hop. It's important to me!"
Just as poignant is "Deconstruction," Lecrae shares, "Deconstruction is the heart and soul of the mixtape! Church Clothes 4 has a lot of garnishes and side dishes, but Deconstruction is the meat on a plate. My heart is bleeding out! You're hearing everything I've been through and how I was able to rebuild on this particular song."
While "Deconstruction," takes you through the tough times, "We Did It" ft PJ Morton is a celebratory song. "This song is for people who felt counted out. People doubted you, but by the power of God, you did it! For every graduating senior or if you just got out of debt, bought your first home, this song is your anthem," shares Lecrae. He adds a shout out to PJ Morton who is featured on the song. "PJ Morton is an incredible singer, artist, and inspiration.He's a musical genius. I'd say he's underrated, but he has tons of Grammy's that say otherwise. It's a dream having him on Church Clothes 4."
When he first recorded Church Clothes, "People were like, what is this? Is it Asian? Is it this Mexican? Nah, it's teriyaki on a quesadilla. It's faith and hip-hop meeting together and I am the child that comes from it. So, it's not like one category you can put in it. It's like concentric circles. One circle over here and another over here; where they overlap is where you get someone like me. So regardless of where you stand, there's something for you on Church Clothes 4, hip-hop, and faith!"
"I'm at a place now where I'm building the framework for the future of CHH and hopefully expanding faith in hip-hop globally. I'm also putting some skin on my faith. Martin Luther King Jr. put skin on his faith. He didn't just say I love God; he got out in the streets and ensured people were eating and protected their rights. In this post-George Floyd era, I can talk about the realities that affect Black and Brown people inside and outside the church and challenge my white brothers and sisters to pay attention to our voices. It's me putting skin on my faith. When you listen to Church Clothes 4, no side has it all figured out. It begins with listening. For us to work together, we gotta listen to each other! Church Clothes is just me challenging people to listen."
After achieving a Billboard #1 and Grammy Award for his album, Anomaly, Lecrae had to decide what were his next steps. In this short, Church Clothes TV Episode 1: The Consultants, Lecrae recall these moments with consultants who were guiding his next career move!
At the height of his career, Lecrae took an interview with a widely known hip-hop podcast and recalls the experience in this episode of Church Clothes TV Episode 2 Podcast.