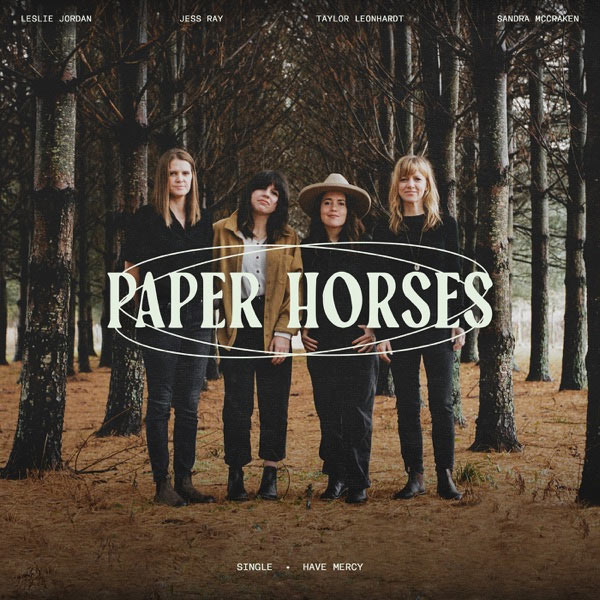 Today, the debut single from the new female foursome, Paper Horses, hits streaming platforms. "Have Mercy" features the combined talents of Sandra McCracken, Leslie Jordan (formerly of All Sons & Daughters), and Mission House's Jess Ray and Taylor Leonhardt. Check out the story of how this new band was formed in Taylor's own words below:
"Some of the very best things happen by accident.

Or seemingly so. It was November 2020. I had just moved to Nashville a few months prior, and Jess was in town to write songs for Mission House. We scheduled a write with two of our very favorites around, Leslie Jordan and Sandra McCracken, out at Leslie's property. We were still navigating the pandemic, still unsure how to make plans. I remembering being just so darn happy that day to be with people in real life.
We wrote a song that afternoon called IN EVERYTHING. The lockdown had made monks of us all and in the abbeys of our home offices, our living rooms, our backyards and neighborhood parks, God was meeting us. No one was going to church that year but we were finding God in all kinds of places. We we were missing the holy act of being together. It was a special song. We just kept looking around at each other, in a little awe and a lot of gratitude. Sometimes in co-writing, you strike gold. The spirit moves. The sea parts. This one felt like that.
"What do we do with this song??" we kept asking each other for months. It didn't seem quite like it fully belonged to any one of us, but we got attached all the same. I led it for a virtual church gatherings, almost anytime I had the chance. I found myself humming it on walks.
Then we started asking a more fun question: what if we released the song together? Alll four of us!What would that look like? Should we form a band? I crossed my fingers that the answer to that question would be YES.
Finally, in 2022, we pulled together a pile of tunes we'd all written but hadn't recorded yet and booked a studio. We hired amazing musicians and bluegrass players. Upright bass, mandolin, dobro, etc. We did a lot of unison singing. Think The Highwomen, Gillian Welch, Alison Krauss kinda stuff. We wanted it to sound like the mountains. Real, not too fussy. We left with an EP's worth of beautiful, special, songs that don't sound like anything we've ever released before.
And so here in the year of our Lord 2023 I am happy to say we ARE a band! We are called PAPER HORSES. (Although some of us really wanted to call it Boots McCracken and the Nashville Hot Tots.) Somehow, I found myself (again) making music with my best friends.
Paper Horses' first single HAVE MERCY comes out this Friday, August 4. We want you to be the very first to hear it! We'd love for you to join us in spreading the word. Word of mouth / street hype REALLY works (hello, Barbie movie) and we will need all the help we can get letting people know about our new band and our new song. Follow us on Instagram, check out our website and sign up for our newsletter, and stream the new single this Friday!
Your super excited friend,
Taylor"
###