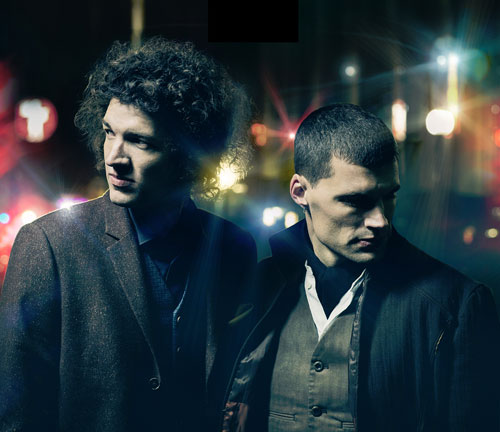 Grammy and Dove Award-winning band For King & Country will take the stage at LifeChurch.tv's Church Online starting Saturday, July 18.
The band, led by brothers Luke and Joel Smallbone, led an intimate worship set that will be part of the Church Online live services for one week only, alongside a message from LifeChurch.tv Senior Pastor Craig Groeschel. Church Online will be the only place to see the exclusive worship set and an interview with the band.
"We were beyond thrilled to find out these talented guys wanted to share their music with thousands of people who may have never attended church before," LifeChurch.tv Church Online Pastor Alan George said. "The message in their music really hits home, especially for so many of the people who visit us each day looking for hope, love, and a place to be known."
The band's second album, Run Wild. Live Free. Love Strong., took home the 2015 Grammy Award for Best Contemporary Christian Music Album. While touring to support their debut album, Crave, in 2013, the band was forced to take time off as Luke dealt with health issues.
"A lot of times we feel like when struggles come our way, we're being punished, or there's some reason why this is happening to us," Luke said. "We have a God who loves us. My encouragement to people is to embrace it and seek out who God is."
Church Online at LifeChurch.tv launched in 2006 as a way to reach people around the world for Christ. In nine years, Church Online has welcomed millions of unique visitors to experience worship, encouragement, community, and a biblical message.
There are 67 opportunities to catch For King & Country at Church Online, starting Saturday, July 18 at 6:30pm CDT. A complete schedule can be found at http://live.lifechurch.tv.
About LifeChurch.tv
Based in Edmond, OK, LifeChurch.tv is a multi-site church with more than 60,000 people attending each weekend at 24 physical locations in seven states (OK, TX, KS, TN, FL, NY, and NM). Each location is equipped with a full staff including a Campus Pastor, Children's Pastor, and Worship Team. Messages are led by Senior Pastor Craig Groeschel and are broadcast to more than 170 worship experiences each weekend at physical locations and throughout the week at Church Online (live.lifechurch.tv). LifeChurch.tv's mission is to lead people to become fully devoted followers of Christ. To learn more about LifeChurch.tv or to find service times and locations, please visit www.lifechurch.tv.