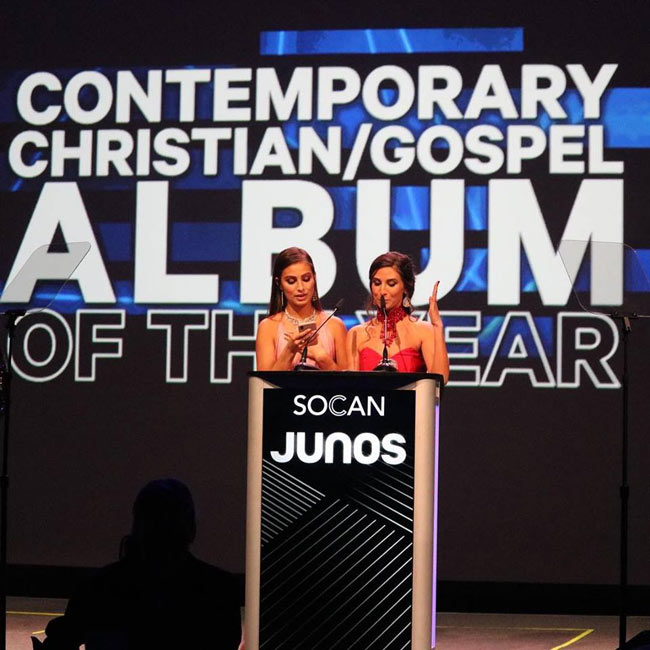 Following their first-ever JUNO Award nomination, sisters Lauren Budnick and Brooke DeLeary of the faith-forward pop duo LOVECOLLIDE were honored by The Canadian Academy of Recording Arts and Sciences (CARAS) last night with the 2019 Contemporary Christian/Gospel Album of the Year JUNO Award for Tired Of Basic. Their acclaimed, third full-length album, Tired Of Basic, released April 13, 2018 on ABS Entertainment, LLC with global distribution through The Fuel Music.
The JUNO Awards ceremony for Canada's biggest night in music was held yesterday in London, ON, was hosted by Sarah McLachlan, and broadcast live across the country on CBC, CBC Radio One, CBC Music and more. Video of LOVECOLLIDE receiving their Juno Award and the duo's full acceptance speech can also be seen online now at https://youtu.be/p6FRSM3bT0M.
Prior to the awards ceremony, LOVECOLLIDE completed numerous interviews, including interviews with CBC Radio, Faith FM and the nationally-televised Canadian show 100 Huntley Street where they also performed their current hit radio single, "Undeniable."
Being heard on radio throughout Canada, something that's particularly meaningful for the girls as tribal members of the Chippewas of the Thames First Nation in Muncey, Ontario, LOVECOLLIDE has released two singles from Tired Of Basic. Their first single (and video), "I Don't Want It," spent six months on The CCRC (Canadian Christian Radio Chart) Top 30 while their hit, "Undeniable," continues for its 15th consecutive week on the chart. "Undeniable" also spent five straight weeks at No. 1 on The CCRC's Cancon chart. It has additionally spent two months at No. 1 on More Radio's monthly chart.
LOVECOLLIDE's Tired Of Basic, produced by Riley Friesen (Family Force 5, Group 1 Crew) and Matt Dally (Superchick, Jamie Grace), is meant to be a revolution against boredom, mediocrity and status quo living.
CCM Magazine calls the album "infectious pop music" as JesusFreakHideout.com gives the album 4.5 stars and says Tired of Basic is"an urgent sonic punch." Lauded by NewReleaseToday.com, CrossRhythms.co.uk, Breathecast.com, Today's Christian Entertainment and more, the album is available now at all major digital and streaming music providers internationally through https://lovecollide.lnk.to/tiredofbasicIN, as well as at Target, Christianbook.com and others.
"We want our music to be an experience, not just something to listen to," shares Lauren. "We want the vibe, the style we give people and the love they receive to be something they remember, something that changes them."
For all the latest LOVECOLLIDE news, tour dates and more, go to: www.lovecollide.com, Facebook, Twitter, Pinterest and YouTube.